Details Of What Governors Agreed With Miyetti Allah During Monday's Meeting Emerges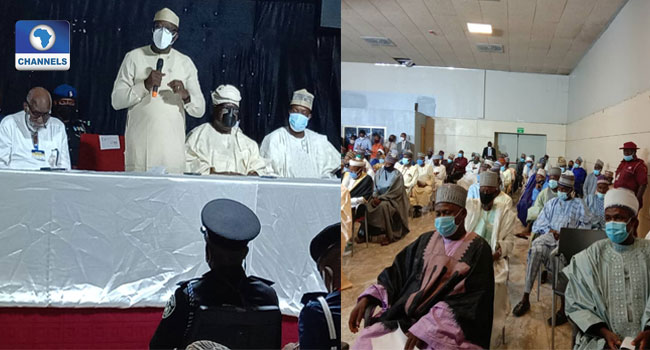 Some state Governors led by the Chairman of the Nigeria Governors' Forum and Ekiti State Governor, Kayode Fayemi on Monday held a meeting with national leaders of the Miyetti Allah Cattle Breeders Association (MACBAN) in Akure, Ondo State capital.
Naija News reports the focus of the meeting was to proffer workable solutions on curbing criminal activities by bandits, kidnappers, and others who hide in forests to unleash mayhem on innocent citizens.
At the end of the meeting, which lasted for about three hours, all parties agreed to prioritize national security, hence an agreement was reached to ban night grazing across the South-West region.
MACBAN was also urged to embrace modern ranching which prevents cattle roaming that results in the destruction of farms.
The communique issued at the end of the meeting partly noted that "the order of the Ondo State governor was misconstrued and misrepresented by a section of the media. He only ordered those occupying the forest reserves in Ondo State illegally to quit."
It added that "night grazing should be banned henceforth while underage herding is inimical to security and hence be banned and occupation of state forest reserves illegally is condemned.
"MACBAN also suffers insecurity and kidnapping and thus desire peaceful coexistence and MACBAN is ready for any peaceful move by the states to engender security.
"There must be an enduring framework with MACBAN in a way that will help address security issues."
"That free-range grazing must be stopped to avoid conflicts between the farmers and the herders.
"Strengthening alternative security arrangements and make them complementary to the mainstream security agencies in Nigeria.
"MACBAN should embrace and be committed to modern breeding process by creating grazing reserves and practice ranching to prevent cattle roaming about."
The meeting also resolved that "standing committee comprising of farmers, MACBAN and the government should be set up in each state (where they don't exist) to ensure synergy and result.
"We must create economic opportunities for our people and reduce opportunities for criminalities in our country."
As previously reported, Governors Seyi Makinde of Oyo State; Gboyega Oyetola of Osun State; Muhammadu Badru Abubakar of Jigawa State; Abubakar Atiku Bagudu of Kebbi State; and Oluwarotimi Akeredolu of Ondo State were all in attendance at the meeting.
The meeting comes after the dust raised by the quit order issued to Fulani herdsmen to vacate the forest reserves of Ondo State as well as the 7 days ultimatum handed down by Sunday Igboho for herdsmen to leave Oyo State.
Speaking at the event, the governors bemoaned the incessant and unprovoked attacks on their citizens and vowed to protect them while promoting unity, and good neighborliness.
Oyo State Governor, Seyi Makinde in his remarks at the meeting, noted that the meeting is not about politics but a meeting about "a serious challenge we are faced with."
He said "we will not use criminality to solve criminality as nobody can predict what will end such. We will continue to work with our people to face the kidnappers, bandits, armed robbers who are our common enemies. We have to deal with the issue of fake news."
He added that his administration "will continue to expand the economy and provide job opportunities for our people. We will continue to provide the leadership that the country needs at this time."
On his part, the Ondo State Governor, Oluwarotimi Akeredolu said kidnappers are using forest reserves as an area of operation for kidnapping hence the need to regulate activities within and around the forest areas.
"Even our Farmers are registered, we all agreed no night grazing, no underaged grazing. We will ban grazing in cities. I assure you we can all work together to chase all criminals from the state. We must be able to identify and move them out of the forest reserves. We must protect everyone living in Ondo State," Akeredolu said.
Download NAIJA NEWS app: