Atiku Marries Moroccan Fourth Wife As Jennifer Leaves Ex-VP House, Relocates To London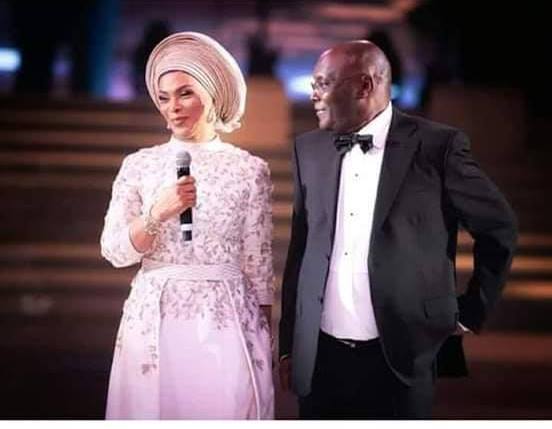 Former Vice President Atiku Abubakar has largely kept happenings in his household away from the press. But his entanglement with a new wife of Morrocan origin may have caused a rift in his well-managed home.
According to PeoplesGazette, Jennifer Douglas-Abubakar, third wife of the former vice-president, has excused herself from her matrimonial home following her husband's decision to take a fourth wife.
She has yet to file for divorce and it was yet unclear whether or not she planned to do so, family sources revealed.
Although Mrs. Douglas-Abubakar only recently relocated to London from their family homes in Abuja and Dubai, she has mulled her husband's action and its consequences since Atiku Abubakar first introduced his new wife to the family in 2017, sources said. He married the Morrocan that year and in 2018 they welcomed their first son together who is two years old.
The former Presidential candidate of the Peoples Democratic Party (PDP), who contested against President Muhammadu Buhari in 20219, has his relationship entirely from the public.
"He saw the relationship as a personal matter," a family source told the Gazette over the weekend. "But it is understandable why the public would be interested in what is going on even in the most intimate corners of his household."
"Many people have become too used to his suave appearance that they often forget that he is a devout Muslim," a family source said. "His faith allows him to take four wives or even more and we all know he has the financial and intellectual ability to elevate all his wives and children."
Atiku Abubakar's other wives were more accepting of the Moroccan new wife than Mrs. Douglas-Abubakar, whom sources said was considered to be the worst hit by the development.
"She saw it as a let down because of the special level of care she had been receiving from the former vice-president," a family source said. "She just felt the Moroccan woman had arrived to take her place."
The former Vice President before his marriage to the Morrocan lady had three wives and twenty-eight children.
Mrs. Jennifer Abubakar declined multiple requests for comments on her decision to move out of her matrimonial home against the backdrop of her husband's new marriage.
Recall that Atiku Abubakar had recently sold his shares in Integrated Logistic Services (INTELS) Nigeria Limited for $100m.
Intels' Spokesman, Tommaso Ruffinoni, told THISDAY that the former Vice President was no longer a shareholder of the country's largest logistics company.
He disclosed that Atiku sold his shares to Orleal Investment Group, the parent company of Intels, for over $100 million in the deal that spanned two years.
According to the Intels'sokesman, the company paid Atiku $60 million, $29 million $24.1 million in three installments.
Ruffinoni revealed that Atiku sold his shares in a series of transactions that began in December 2018 and concluded last year
He noted that Atiku had since left the company with his two sons, Adamu Atiku Abubakar and Aminu Atiku Abubakar in December 2020.