Nigerians Will Celebrate My Gay Son – Doyin Okupe Declares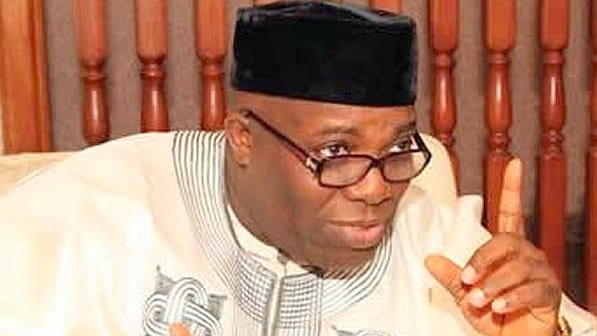 Former presidential aide, Dr. Doyin Okupe, has said his gay son, Bolu Okupe, will one day be celebrated by Nigerians.
It will be recalled Naija News earlier reported that Bolu Okupe, son of Dr. Okupe, has revealed on social media that he is gay and proud.
In a post via his Instagram handle @boluokupe on Thursday, the video creator, YouTuber, LGBTQ activist said he "came out of the closet" for his own benefit.
Bolu shared a photo of himself in rainbow-colored shorts with a rainbow flag behind him.
Okupe in his reaction said the situation is a spiritual challenge, adding that he had been aware for a while about his son's sexual preference.
He noted that while he is opposed to homosexuality, he is looking beyond the physical and taking the entire situation as a spiritual challenge.
This led to mixed reactions from Nigerians on social media, with some expressing the opinion that he failed as a father due to his son's sexuality.
Reacting, the former presidential aide shared a screenshot from a magazine that shows another son of his listed among the Most Influential Africans in 2017.
"This is also my son Dewunmi Okupe, one of Bolu Okupe's five other brothers. I love all the children God has given me, Bolu inclusive. I pray for them to excel in their fields of endeavours. Bolu will still be celebrated on this wall, in Nigeria and globally, in the name of Jesus," he wrote.
"Bolu is not a criminal. He lives in France where homosexuality is not a crime. His present mindset and sexual orientation do not conform to Christian doctrine which I hold to with my life. But I am certain that with the boldness he has made his declaration, he will still use the same attribute to serve God and boldly declare His Glory in Christ Jesus. Mark my words."