'Obasanjo Was Inaugurated In 1999 Without Constitution' – Nwodo
The immediate past President of the Ohanaeze Ndigbo, Chief John Nwodo, says former President Olusegun Obasanjo was sworn into office in 1999 without a constitution.
Speaking at the 18th Daily Trust Dialogue in Abuja on Thursday, Nwodo said nobody saw the constitution which was used to swear-in Obasanjo.
Nwodo said as the Information Minister in the Abdulsalami Abubakar-led government, it was his responsibility to publicise the constitution.
He added that no member of the government saw a copy of the 1999 constitution before the Obasanjo government was inaugurated.
However, Nwodo said the constitution was drafted by 47 persons appointed by the then Head of State, 40 of which were military officers.
"I was Minister of Information and it was my responsibility to publicise the constitution.
"I never saw a copy and never knew who was printing it.
"The National Assembly could not be inaugurated until four days after the President's inauguration because there was no clean copy of the constitution," he said.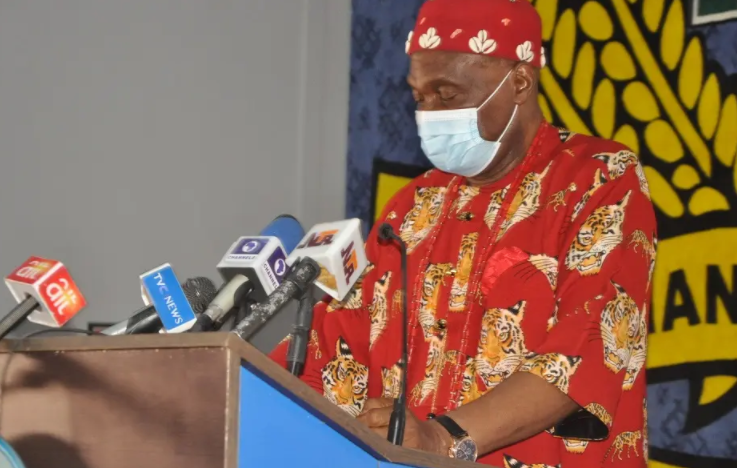 Speaking further, Nwodo opined that the only way to solve the numerous problem facing the country is to restructure it and return Nigeria to the path of development.
He, however, said "to restructure Nigeria, we need a constitutional conference of all the ethnic groups in Nigeria
"We should restructure because the constitutional history of Nigeria shows that the only constitutions of the Federal Republic of Nigeria made by all the ethnic groups in Nigeria, were the 1960 and 1963 Constitutions.
"The 1999 Constitution overthrew the sovereignty of the regions over their national resources and domestic security unleashing in the process an unprecedented fall of education standards, domestic security, and economic wellbeing.
"To use the current National Assembly as the forum for constitutional amendments grants a tacit recognition of the overthrow of our democratic norms by the enthronement of a military constitution by which they are composed."