Trump Pardons Close Ally Steve Bannon, Lil Wayne, Kodak Black, Others [Full List]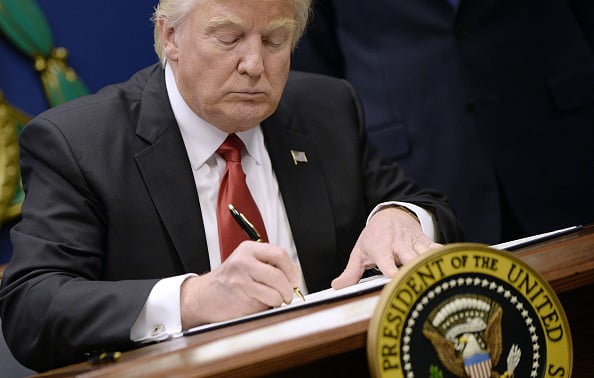 United States President, Donald Trump, has pardoned former political strategist and ally Steve Bannon and 72 other people, the White House has announced.
Recall that Bannon had being charged with defrauding people over funds raised to build the Mexico border wall that was a flagship Trump policy.
"President Donald J. Trump granted pardons to 73 individuals and commuted the sentences of an additional 70 individuals," the White House said in a statement on Wednesday.
According to Nigeria News,  the president — who will leave office on Wednesday — made his last-minute decision after speaking to Bannon by phone.
The pardon would effectively wipe away charges against Bannon, if he was convicted, it said.
The batch of 73 pardons and 70 commutations issued in the final hours of his presidency was expected and is in keeping with a long-standing presidential tradition of exercising clemency powers at the last minute.
The vast majority of the pardons and commutations on Trump's list were doled out to individuals whose cases have been championed by criminal justice reform advocates, including people serving lengthy sentences for low-level offenses.
But several controversial names do appear, including Steve Bannon, who has pleaded not guilty to charges he defrauded donors in a "We Build the Wall" online fundraising campaign. T
During his final hours in office there was a frantic debate underway behind the scenes on whether to grant Bannon a pardon, CNN reports
One concern was Bannon's possible connection to the January 6 riot of Trump supporters at the US Capitol, according to a source familiar with the discussions.
Over the course of Tuesday, Trump continued to contemplate pardons that aides believed were settled, including for his former strategist. The President continued to go back and forth on it into Tuesday night, sources told CNN.
Other names included Tuesday were Elliott Broidy, a former top fundraiser for Trump's campaign who pleaded guilty to one count of conspiracy relating to a secret lobbying campaign to influence the Trump administration on behalf of a foreign billionaire in exchange for millions of dollars.
The rapper Lil Wayne received a pardon after pleading guilty to a gun possession charge in Miami. Another rapper, Kodak Black, received a commutation after he pleaded guilty to a weapons charge.
Trump also offered clemency to Paul Erickson, the conservative political operative and ex-boyfiend of alleged Russian spy Maria Butina, who pleaded guilty to wire fraud and money laundering charges; Robin Hayes, a North Carolina political donor convicted of trying to bribe officials; Former Detroit Mayor Kwame Kilpatrick, convinced of federal charges including racketeering, extortion and the filing of false tax returns; William Walters, a professional sports gambler convicted of insider trading; and Aviem Sella, an Israeli air force officer who the US accused of being a spy.
Bob Zangrillo, the Miami developer and venture capitalist charged in the Varsity Blues college admission scandal, also received a pardon. None of the other parents caught up in the probe were pardoned.
See The List of People Pardoned By Trump
Todd Boulanger
Abel Holtz
Representative Rick Renzi
Kenneth Kurson
Casey Urlacher
Carl Andrews Boggs
Jaime A. Davidson
James E. Johnson, Jr.
Tommaso Buti
Bill K. Kapri
Jawad A. Musa
Adriana Shayota
Glen Moss
Anthony Levandowski
Aviem Sella
Michael Liberty
Greg Reyes
Ferrell Damon Scott
Jerry Donnell Walden
Jeffrey Alan Conway
Benedict Olberding
Syrita Steib-Martin
Lou Hobbs
Matthew Antoine Canady
Mario Claiborne
Rodney Nakia Gibson
Tom Leroy Whitehurst
Monstsho Eugene Vernon
Luis Fernando Sicard
DeWayne Phelps
Isaac Nelson
Traie Tavares Kelly
Javier Gonzales
Eric Wesley Patton
Robert William Cawthon
Hal Knudson Mergler
Gary Evan Hendler
John Harold Wall
Steven Samuel Grantham
Clarence Olin Freeman
Fred Keith Alford
John Knock
Kenneth Charles Fragoso
Luis Gonzalez
Anthony DeJohn
Corvain Cooper
Way Quoe Long
Michael Pelletier
Craig Cesal
Darrell Frazier
Lavonne Roach
Blanca Virgen
Robert Francis
Brian Simmons
Derrick Smith
Raymond Hersman
David Barren
James Romans
Jonathon Braun
Michael Harris
Kyle Kimoto
Chalana McFarland
Eliyahu Weinstein
John Estin Davis
Alex Adjmi
Elliott Broidy
Stephen K. Bannon
Douglas Jemal
Noah Kleinman
Dr. Scott Harkonen
Johnny D. Phillips, Jr
Dr. Mahmoud Reza Banki
Tena Logan
MaryAnne Locke
April Coots
Caroline Yeats
Jodi Lynn Richter
Kristina Bohnenkamp
Mary Roberts
Cassandra Ann Kasowski
Lerna Lea Paulson
Ann Butler
Sydney Navarro
Tara Perry
John Nystrom
Gregory Jorgensen, Deborah Jorgensen, Martin Jorgensen
Jessica Frease
Robert Cannon "Robin" Hayes
Thomas Kenton "Ken" Ford
Jon Harder
Scott Conor Crosby
Chris Young
Adrianne Miller
Lynn Barney
Joshua J. Smith
Amy Povah
Dr. Frederick Nahas
David Tamman
Dr. Faustino Bernadett
Paul Erickson
Kwame Kilpatrick
Fred "Dave" Clark
Todd Farha, Thaddeus Bereday, William Kale, Paul Behrens, Peter Clay
David Rowland
Randall "Duke" Cunningham
William Walters
Dwayne Michael Carter Jr.
Stephen Odzer
James Brian Cruz
Joey Hancock
David E. Miller
James Austin Hayes
Drew Brownstein
Robert Bowker
Amir Khan
Shalom Weiss
Salomon Melgen
Patrick Lee Swisher
Robert Sherrill
Dr. Robert S. Corkern
David Lamar Clanton
George Gilmore
Desiree Perez
Robert "Bob" Zangrillo
Hillel Nahmad
Brian McSwain
John Duncan Fordham
William "Ed" Henry