Pigeons Released By Buhari During Armed Forces Remembrance Day Refuse To Fly, Nigerians React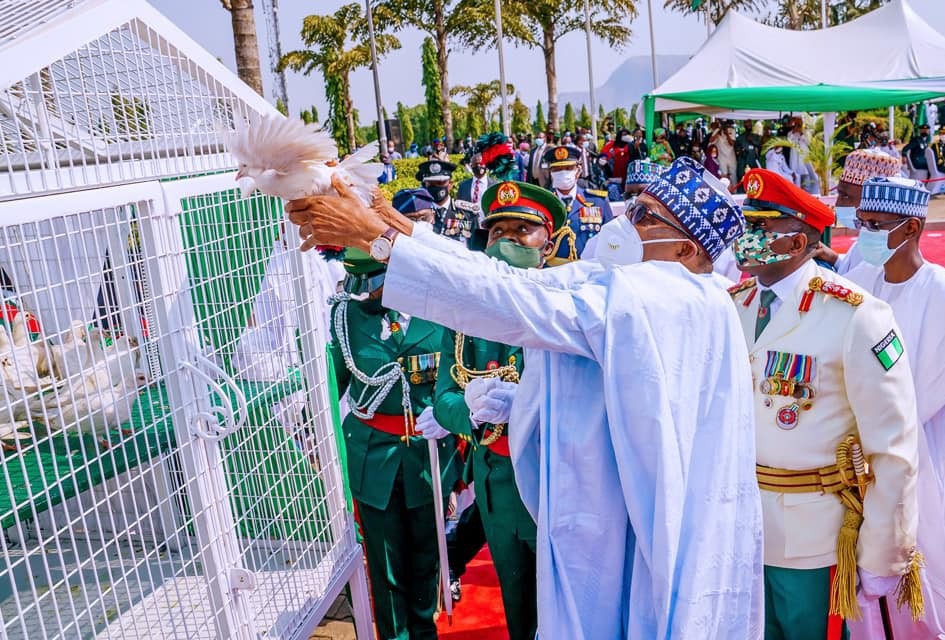 The Pigeons released by President Muhammadu Buhari in Abuja on Friday on the occasion of the 2021 Armed Forces Remembrance Day refused to fly, eliciting mixed reactions from Nigerians on social media.
The Armed Forces Remembrance Day (AFRD), is a public holiday in Nigeria observed on 15 January every year to commemorate the servicemen of the Nigerian Armed Forces. It also honors veterans of the World War I and II as well as the Nigerian Civil War, Naija News reports.
It is customary during the event for the President to release some Pigeons into the air as a symbol of peace. However, the Pigeons released by President Buhari during the 2021 event refused to fly.
As seen in the video of the event which has gone viral on the internet, the President gave them another push after opening their cage and they refused to fly but the birds just won't be bothered.
This has attracted lots of reactions from Nigerians who have taken to the micro-blogging site, Twitter to share their views on what transpired at the event which held at the National Arcade, Eagle Square in Abuja.
The event also had in attendance the Vice President, Professor Yemi Osinbajo, President of the Senate, Ahmed Lawan; Speaker of the House of Representatives, Femi Gbajabiamila, the Chief Justice of Nigeria, Tanko Muhammad as well as members of the diplomatic corps.
Watch the video and see some of the reactions from Nigerians on Twitter:
Pigeons Released By Buhari Refuse To Fly At Armed Forces Remembrance pic.twitter.com/nVL81kSZSf

— Punch Newspapers (@MobilePunch) January 15, 2021
How dare the recalcitrant Pigeons?! Opposition parties must be held liable for this failure to launch in the spirit of peace. Apologies Mr President, don't mind them. The pigeons must be investigated and their collaborators smoked out. Nonsense. ? https://t.co/FRUIjlEHI6

— SEGA L'éveilleur®? (@segalink) January 15, 2021
Dem go find videos of where pigeons refused to fly during past administrations.

— Mazi Ibe (@MaziIbe_) January 15, 2021
I guarantee you… If it was possible, the DSS would arrest the pigeons for such an affront on the President.

But really, is there peace, harmony and security in the land?

And totally unrelated, Channels TV is fake news.

— Morris Monye? (@Morris_Monye) January 15, 2021
The pigeons refused to fly due to 16 years of PDP rule.

— Joey Akan (@JoeyAkan) January 15, 2021
*Buhari to the pigeons*

Fly or go to jail

The pigeons: Wo. We die here?????? pic.twitter.com/11JWfnPiuw

— Arákùnrin Àlàó Aríṣekọ́lá (@Great_Kamil) January 15, 2021
Nothing moves in this country, not economy, not even pigeons pic.twitter.com/u4b8cNwCiz

— Oyindamola? (@dammiedammie35) January 15, 2021
Pigeons always fly.

If they don't, something is really wrong. And something is really wrong. A lot of things are really wrong.

— Olóyè. (@oloye__) January 15, 2021
Are we sure those pigeons were well fed, cause them be like say dem nor get strength.. Person fit don chop their feeding budget pic.twitter.com/SyxBMwr1LY

— ????ℽ?? (@k3v333) January 15, 2021
Birds love to fly.

Caged birds will fly once the cage is open.

My man opened the cage, they even tried to push the pigeons to fly. Omo them no gree ???.

Pigeon no wan make bandit nab them, where papa pigeonma wan see 4M this Dry season.

— Pastor Ola ✨ (@Biisi96) January 15, 2021
Man. This life is a whole movie! ???

MC: These pigeons fly high symbolizing harmony and peace

Pigeons: Y'all didn't feed us enough for this lie ? https://t.co/rgN9M38qCn

— Chuba Ezekwesili (@ChubaEzeks) January 15, 2021
Those pigeons wey buhari release, they refuse to fly because they were hungry. Nothing much to add.?

— sophia (@90sSophie) January 15, 2021
Buhari: *releases Pigeons*

Pigeons: Wahala for Who dey Expect us to fly oh: pic.twitter.com/Ruxb0mhrm7

— ?????? (@PrinzwilEFE) January 15, 2021
Just like Nigeria Air, even Nigeria Pigeons no dey fly. pic.twitter.com/B8Ws6oU5j9

— Sammy Desh (@Deshysmalls) January 15, 2021
Did you hear that? ? One of the pigeons said #EndSARS. ?

— Ayemojubar (@ayemojubar) January 15, 2021