Be Ready To Go To Sambisa Forest, Buratai Tells New Army Recruits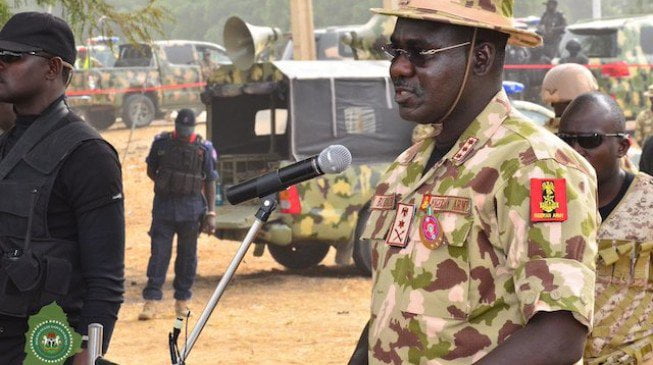 Nigeria's Chief of Army Staff (COAS), Lt. Gen Tukur Buratai on Monday told some newly recruited soldiers into the Nigerian Army to be ready for deployment to Sambisa Forest to face insurgents.
Buratai while addressing the recruits at the Falgore forest training camp in Kano State noted that they must be disciplined and ready for deployment to any location to defend the country.
He added that those not ready to abide by the terms and conditions of service should withdraw now, stating that only the best are meant for recruitment into the Nigerian Army.
"The Nigerian Army is not ready for that again. As such, you must make up your mind that you are ready to serve your country as a soldier and you should be ready, anywhere you are deployed, after your passing out. All of you will go to Sambisa at the end of your depot training.
"If you are not ready to move to Sambisa and other parts of the country, and of course, our border areas to defend our country from any act of aggression, then you have not started.
"It is not yet late, if you have any doubt if you are not ready for discipline and loyalty at any point, then you can stand up and go. There is no room for laziness and indiscipline in the army and no room for malingering," the COAS said during the final screening for 80 regular recruits.
Buratai added, "This is where we will select those that will become cadets and be trained as officers as well because, at the end of all the training, the officers and soldiers will operate together under the same condition. As such, all must be subjected to a similar process of recruitment and selection.''
A total of 6,000 applicants from the 36 states of the federation are currently undergoing screening at the new training ground for enlistment into the army, Naija News understands.
Successful candidates from the forest will then proceed to the Nigerian Army Depot, Zaria.
Meanwhile, the Nigerian Army has launched a new operation as part of fresh efforts to totally defeat Boko Haram terrorists in the country.
The new operation, code-named Operation TUKA TAKAIBANGO was launched on Thursday in Yobe State at the 27 Brigade Tactical Headquarters Buni Gari.
The Chief of Training and Operations Nigerian Army, Maj. Gen. NE Angbazo who represented the Chief of Army Staff, Lt. Gen Tukur Buratai at the launch noted that the move is targeted at launching fresh ideas and personnel against the terrorists, with a view of wiping them out completely.
Source: Naija News