BREAKING: US Congress Confirms Biden/Harris Electoral College Victory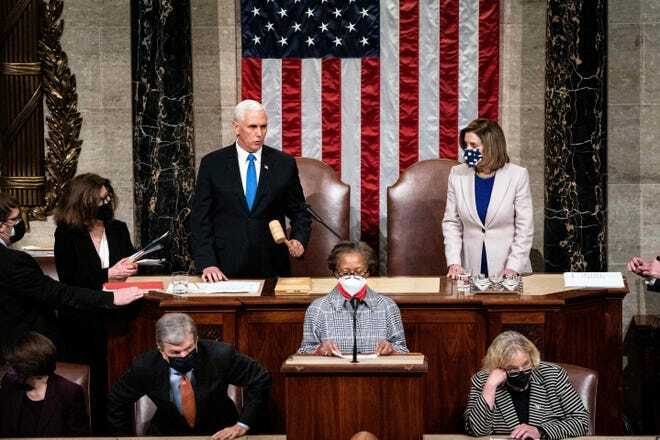 The United States Congress on Thursday confirmed the electoral victory of Joe Biden and Kamala Harris in the 2020 US election.
Naija News reports that Biden 306 electoral college votes was confirmed as the US Congress also confirmed Trump scored 232 votes.
The US electoral college votes affirmation was presided over by Vice President Mike Pence and Speaker Nancy Pelosi.
The counting of Vermont's three electoral votes put Biden and Harris over the 270-threshold needed to win the presidency.
Lawmakers in the Senate and House of Representatives had successfully beat back Republican efforts to deny Biden the electoral votes from swing states Arizona and Pennsylvania.
Some of the lawmakers, who earlier supported Trump's efforts to overturn the election, made a U-turn after the "shameful" incident resulting in the death of one woman.
Recall that President of the United States of America, Donald Trump, had told his supporters outside the White House that he would never concede defeat in the November 3 presidential election, calling on his supporters to march to Capitol Hill and protest congress affirmation of the US election.
Trump in his statement said, "I will never give up. We will never concede." He added, "We will stop the steal."
As a result of Trump's statement, his supporters violently attacked lawmakers, taking over both houses of the legislature despite the presence of Vice-President Mike Pence, who is the president of the US Senate.
The US House and Senate were forced into emergency recess on Wednesday night after the protesters breached security cordons and also clashed with security agents.
The US Capitol building went into lockdown and curfew was declared by the Mayor of DC to clear the street of pro-Trump rioters.