Top FG Official Commends El-Rufai For Demolition Of Kaduna 'Sex House'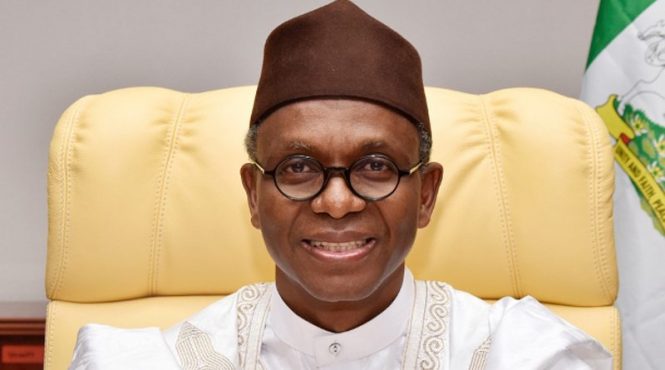 The Director-General of the National Council for Arts and Culture (NCAC), Otunba Olusegun Runsewe has heaped praises on Kaduna State Governor, Nasir El-Rufai for demolishing a house alleged to be the venue for a planned sex party in the state.
Runsewe in a statement on Sunday said but for the quick intervention of the Kaduna Governor, the state could have been turned into a new destination for sex tourism.
He argued that such acts of immorality are contrary to Nigeria's cultural values and heritage and El-Rufai should be commended for nipping the action in the bud.
Citing examples of some African countries he claimed left such practices unchecked, Runsewe said the future of Nigeria is at risk of destruction if such acts are allowed in the country.
"But for this intervention by the governor, Kaduna State possibly would become the new capital and destination for sex tourism in Nigeria.
"This will lead to social disconnect and dislocations with drug peddling in tow and our children destroyed in the process.
"In 1992, Senegal and Uganda, experienced massive influx of sex tourists and immediately took hard measures to curb it because if left unchecked, sex tourism will damage the spiritual, moral and cultural values of any society.
"And there is no sentiments about dealing with it as. El-Rufai has done," Runsewe argued.
Runsewe added that the demolition of the venue for the alleged sex party should serve as a warning to those already engaged or planning to engage in such a lifestyle.
The government official added that such seemingly harmless behaviour is how Boko Haram terrorists and internet fraudsters gained prominence and became a societal issue in Nigeria.
The statement added; "Certainly, Governor El-Rufai has vindicated our position on the need to stop and arrest the unfortunate presence and foreign behavioural influence threatening our cultures and traditions.
"Am sure with the pulling down of the house planned for the sex party, sufficient signals have been sent to other deviants, their sponsors and publics.
"The law of this country must be applied to the fullest to stop this rage from the pit of darkness.
"This is how Boko Haram and "Yahoo-Yahoo'' started and before we knew it, our society and young persons were left to drink from the polluted waters of social vices leaving us to struggle on all fronts.
"So let those who are angry at the response of Gov. El-Rufai go to check out various campaigns mounted against sex tourism by the United Nations World Tourism Organisation and the Universal Federation of Travel Agencies.
"Our culture no doubt is under threat from all sides, but with what Gov. El Rufai has done in Kaduna State, I am convinced that we shall battle the demons of immoral living and enemies of our cultures and traditions to a standstill."
It will be recalled the controversial decision of the Kaduna State government to demolish Asher Hotel, the alleged proposed venue for the sexy party which has continued to stir mixed reactions from Nigerians.
However, the owner of Asher Kings and Queens Restaurant in Kaduna State, Aisha Mercy Yakubu, has headed to court over the demolition of her establishment.
In a statement on Saturday, Yakubu berated the state government for demolishing her restaurant and failing to carry out a proper investigation before carrying out the demolition.
She said on December 27 the VIP lounge was booked for an event where a customer wanted to show appreciation to his own customers for patronising him and not to host an illicit party.
Yakubu said on the day of the demolition of her property no prior notice was given, adding that she lost a month-old pregnancy because of trauma.
Download NAIJA NEWS app: