Nigeria Needs A Re-arrangement More Important Than 2023 Elections – Bode George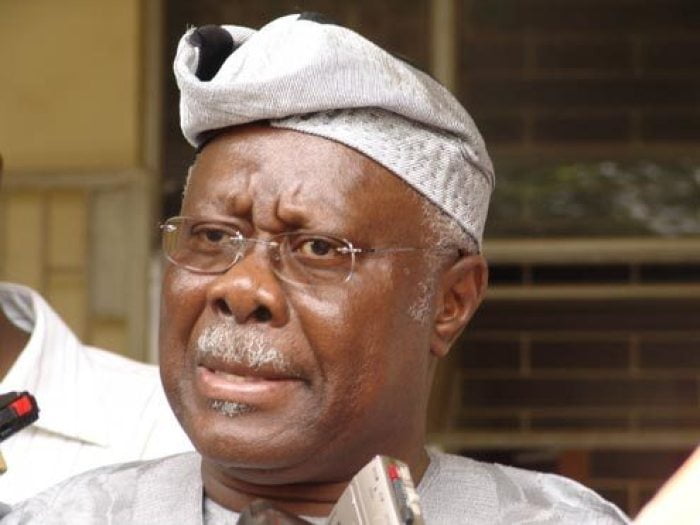 Elder statesmen and former Deputy National Chairman of Peoples Democratic Party (PDP), Chief Olabode George has called for a structural and constitutional re-arrangement of Nigeria as a country.
The politician in a statement on Friday argued that the re-arrangement that Nigeria needs to overcome its challenges is even more important than the 2023 general elections.
George in his statement titled: "A New Year, A New Beginning," noted that a re-visit of the recommendations from the 2014 constitutional conference will set Nigeria on the right path again.
He however denied trying to cause the country's break-up by his submission, rather noting that his recommendation will ensure a true and fair nation which all citizens can see as their own.
The renowned politician also identified issues such as banditry, kidnappings, general insecurity, a weak economy, and the global covid-19 pandemic as some of the major challenges facing the nation.
"Let us revisit the document of the 2014 Constitutional Conference which in totality is quite enlightening about how this nation can be redesigned along a true, fair, equitable, civilized federation.
"This is the real task before us all now. It is even more important than the 2023 presidential election," he said as reported by Tribune.
Adding that 2020 for all countries of the world was very challenging but the peculiarities of Nigeria as a nation made it even more challenging for its people.
"The year 2020 was indeed Annus Horribilis and at once Annus Miserabillis. It was a very terrible year on all fronts. No nation was spared from the terrible pandemic whose scourge still festers across the globe with increasing venom.
"Here at home we equally confronted the cankerworm of banditry, kidnappings, the Endsars protests that triggered ruin and bloodletting.
"Our nation is still challenged with the burden of inequitable obviousness in the machineries of the state. Our Republic is still much skewed, imbalance, distorted by a constitutional arrangement that does not augur for national cohesion and growth," he noted.
Chief George noted further that a decentralization such as that which operates in the United States of America is what Nigeria needs to overcome the imbalance and other challenges plaguing the nation.
"It is interesting that from the North to the South, voices are now coalescing that Nigeria needs a new constitutional arrangement. This is gladdening.
"I do not seek a dismemberment of our nation. But I am resolved, just like millions of our compatriots, that the stronghold of the center must be loosened for a decentralization that favors state autonomy along the line of a United States of Nigeria where the states are allowed comprehensive sovereign powers as reflected in the very constitution of the United States of America which we copied without thorough tidiness," Chief George submitted.
He then added that "This present platform is wobbly. It is unjust. It is unfair. It has to give way for a new structural vision without which the continuity of the Nigerian Union will be fraught with festering maladies. 
"Let us start on a clean slate where justice, representative evenness define our democratic space. I wish our nation well as we grapple with a  new, progressive idealism  in the journey towards a new democratic nation."
Meanwhile, Nigeria President, Muhammadu Buhari, in his new year address on Friday, noted that insecurity has a direct repercussion on our economic stability, growth and development.
The president noted that cycles of violence unleashed by groups like Boko Haram and others have thwarted the efforts of the government to undertake the social policy and associated investments that can transform the lives of Nigerians.
Download NAIJA NEWS app: