'Internally Displaced Politician' Okorocha To Dump APC – Uzodinma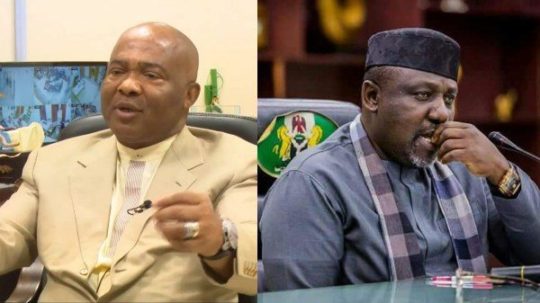 Imo State Governor, Hope Uzodinma has alleged that Senator Rochas Okorocha is planning to dump the All Progressives Congress but wants to destroy the party before leaving.
Uzodinma added on Friday, January 1 that Okorocha is an 'internally displaced politician' who is fast losing relevance and therefore making unfounded claims to make the news.
The Governor made the submissions in a statement through his Senior Special Assistant on Print Media, Modestus Nwamkpa in response to earlier claims by Okorocha who accused Uzodinma of failing to carry along political leaders in the state and the region in his administration.
Okorocha, a former Governor of the state himself lamented that the All Progressives Congress (APC) is no longer breathing in Imo State due to the way Uzodinma is running the affairs of the party.
In his response, Uzodinma said Okorocha was a sinking politician who is only envious the party was doing better than when he was the Imo State Governor.
"Okorocha is a sinking man. He is an internally displaced politician. He is angry that under Governor Hope Uzodinma, APC is gaining more grounds in the South East, including the entry of Governor Dave Umahi into the party.
"I am aware that Okorocha wants to leave APC and his plan is to destroy APC before he joins another party but we will not let him have his way. Okorocha ruled Imo State for eight years with small boys and did what he liked with the state.
"Throughout Okorocha's reign as governor, he never called any stakeholders meeting for APC but Governor Hope Uzodinma in less than one year has been strengthening APC in the state and in the entire region." the Governor's aide noted.
Meanwhile, the major opposition party, the Peoples Democratic Party, on Friday, noted that the 2021 New Year address of President Muhammadu Buhari lacks strategy and direction.
The party noted that the statement of the president shows that Nigeria is heading to a failed state.
"As a president, President Muhammadu Buhari has not demonstrated the capacity to play his own part, as he claimed, having failed to find a solution for the security and economic challenges that pervade our nation under his incompetent and lethargic watch," the PDP said in a statement on January 1, 2021.
Source: Naija News