Obasanjo Reveals Those To Blame For Nigeria's Problems, Says God Not Responsible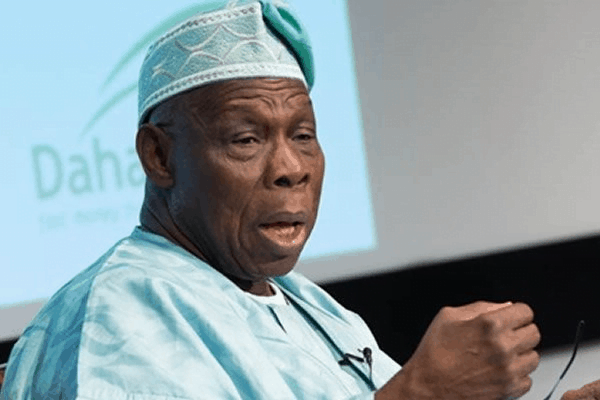 Former President Olusegun Obasanjo has stated categorically that God can not be blamed for the present condition in which Nigeria as a country has found itself.
While acknowledging the many challenges facing the country, Obasanjo submitted in a statement on Tuesday which contained his 2021 message to Nigerians that both the leadership and followership have their share of the blame in Nigeria's current predicament.
The message released from his Olusegun Obasanjo Presidential Library in Abeokuta, Ogun State urged Nigerians to work and pray for the nation to become better, noting that with Nigeria's enormous resources, the country has no business with poverty.
In order to have a better 2021, Obasanjo said it will take a combination of hard work and prayers.
"I like the motto of a school which says 'work and pray.' Some people say it should be 'pray and work', but it doesn't matter to me in what order I put it, but prayer must go with work and work must go with prayer.
"And I believe we need to work hard in this country as we pray hard so that the coming year, the year 2021 will be a glorious year for us. But it will not happen unless we work to make it happen.
"We do not have to blame God for our situation, we have to blame ourselves. Nigeria does not have to be poor, no Nigerian must go to bed hungry. That we have a situation like that is a choice by our leaders and followers alike. My prayer is that God will make year 2021 a better year for all of us, but it will not happen without work," he submitted.
He added that Nigeria as a country is not doing the right thing at the moment and only by doing the right things will the many challenges such as economic downturn, insecurity and others become a thing of the past.
The former president said "When we do the right thing. We are not doing the right thing now. When we do the right thing, the economy will be what it should be.
"We have gone from one form of insecurity to bad economy and on the top of it is the COVID-19. Some people, either for insecurity or for bad economy or for COVID-19 have gone to the great beyond, I will say may the would of those who have departed, particularly in this year of challenges, may their souls rest in perfect peace."
Obasanjo served as Nigeria's military head of state from 1976 to 1979 and later as the democratically elected President of Nigeria from 1999 to 2007, Naija News reports.
Meanwhile, the spokesperson to the First Lady of Nigeria, Mrs. Aisha Buhari, Aliyu Abdullahi has disclosed on Tuesday that as a citizen, the President's wife is entitled to her own privacy.
He noted that if the First Lady chooses not to reveal her present location or speak on national issues at the moment, she is entitled to her choice as a private citizen of the federal republic of Nigeria.
Abdullahi, the Senior Special Assistant to the President on Media and Publicity (Office of the First Lady) made the submission when he appeared as a guest on Channels Television's Politics Today programme monitored by our correspondent.
Download NAIJA NEWS app: