Tinubu: Fani-Kayode Attacks Bakare, Labels Him As 'Sakabular' Pastor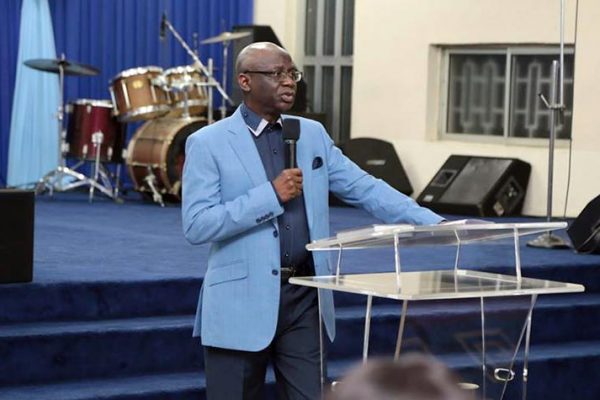 Politician and former Aviation Minister in Nigeria, Chief Femi Fani-Kayode has slammed popular pastor, Tunde Bakare for allegedly supporting the reported 2023 presidential ambition of Asiwaju Bola Tinubu.
Fani-Kayode in a lengthy opinion statement titled 'Who is squeezing Tunde Bakare's balls?' as obtained by Naija News on Tuesday, 29th December, knocked Bakare for turning around to praise a man he once spoke lowly of.
He wondered what caused a sudden change of stand on the same individual particularly at a time when many political actors are gearing towards 2023 general elections in Nigeria.
Pastor Bakare had been in the eye of the storm recently praised the impact of the national leader of the All Progressives Congress (APC), Bola Tinubu, on Nigeria politics.
Speaking at the church's recently unveiled Citadel in Lagos, Pastor Bakare insisted that the APC would not have won the 2015 and 2019 presidential election without the political sagacity of Tinubu.
According to the popular clergyman, the APC chieftain delivered Lagos and the South-west from the onslaught of the PDP from 1999 to 2007.
The fiery pastor's position attracted scathing comments from many political actors in the country but Bakare himself later came out to clarify that no one can pay him off to influence his political or personal opinions, explaining that his commendation of Tinubu's political success was not an approval of his lifestyle.
But the last has not been heard of the saga with Fani-Kayode now adding his voice to the list of those condemning Pastor Bakare over his statement about Tinubu's political empire.
Fani-Kayode said, "I listened to Bakare's words, spoken from the sanctity of his pulpit, three times and I was astounded. I asked myself what could have possibly made him flip in such an unceremonious, undignified and inglorious manner?
"I regarded his new-found and newly-cultivated grovelling and sycophantic assertions about Tinubu as being not only self-serving, arrogant, pitiful and condescending but also a desecration of the pulpit".
"I asked myself over and over again whether this was the same man saying one thing at the end of 2019 and saying the opposite at the end of 2020?"
Fani-Kayode added that Bakare had dragged himself into muddy waters based on his new found love for Tinubu.
"However on this Tinubu matter he has not done justice to himself and he has indulged in an inexcusable faux pas!
I am constrained to ask, why this sudden u-turn on Jagaban? Is there something he knows today that he did not know one year ago? If so can he possibly share it with us so that we can possibly consider doing a volte face too? Or is that they have something on him?" He asked.
He speculated on the possibility that Pastor Bakare may be a victim of blackmail and been forced to say things contrary to his convictions.
"Is he being blackmailed? Are his balls being squeezed by a hidden hand? Why has he suddenly lost what my friend and brother, Yinka Odumakin, often describes as "testicular fortitude?".
Is his chain being pulled by someone? Do they have something on him? Is there a deep dark secret somewhere that we know nothing about and that they are dangling over his head like the sword of Damocles?
He concluded by saying the recent words from Pastor Bakare is a personal opinion and shouldn't have dragged the Yoruba race into the debate, concluding that the clergy's action is a shame.
"Pastor Tunde Bakare's mouth is smelling! He is so filthy and dirty. I am ashamed of that kind of fellow being a prophet of God. He is telling us that noble ancestry, decent livelihood, the honesty of purpose, good and refined education, integrity and hard work are not necessary ingredients for future reference."
"The 'sakabular' pastor is encouraging the young ones to loot, steal, engage in fraudulent acts, sell drugs, do passport racketeering in their youth as these will not count against them in the future. Rubbish from the pulpit. Shame on him," he added.