2023: Top 10 Politicians Who Want To Replace Buhari As Nigeria President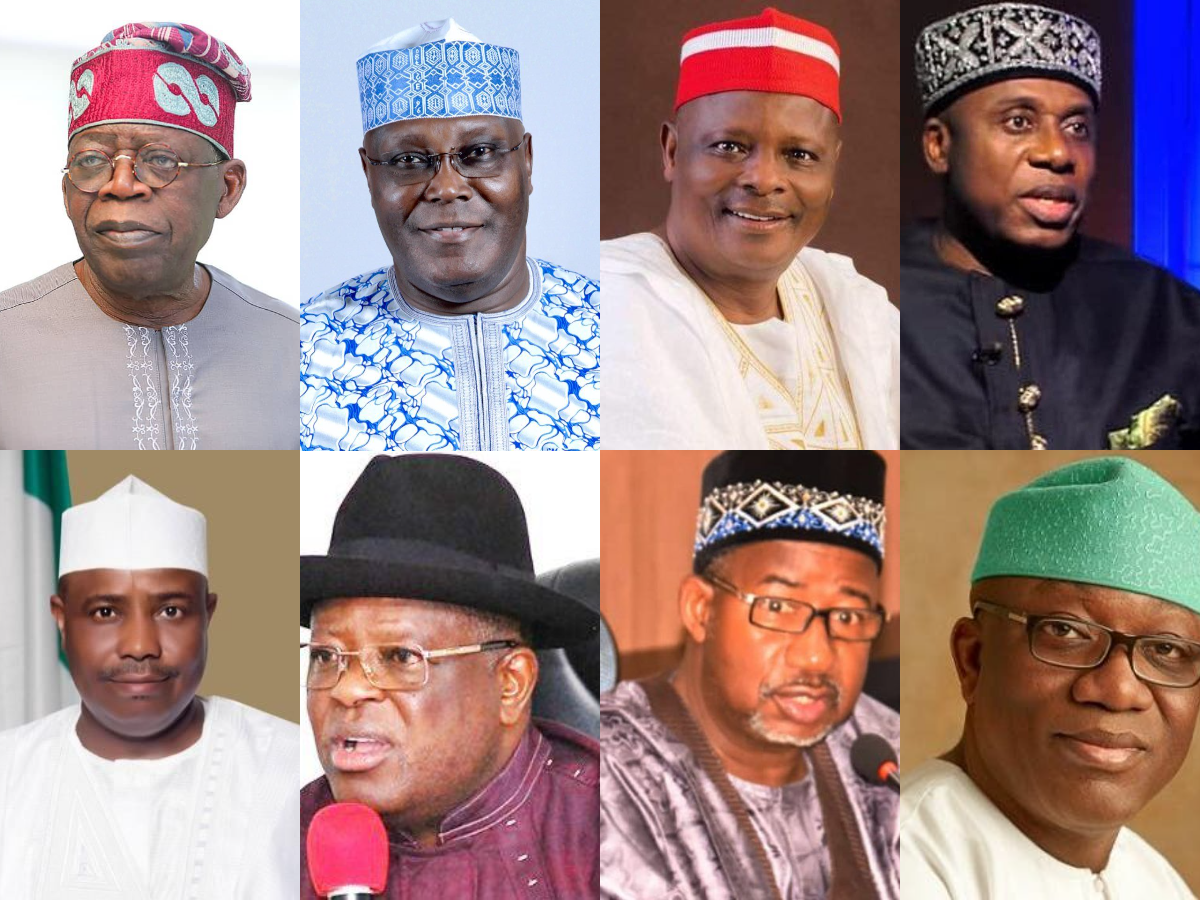 As the year 2023 draws closer, prominent politicians from the All Progressives Congress (APC) and the opposition Peoples Democratic Party (PDP) have already started campaigning to replace President Muhammadu Buhari.
While only Senator Ahmed Yarima has expressed his aspirations, others have used their allies to express their aspirations.
As we enter 2021, it is expected that race for the number one seat in the nation will intensify from both of Nigeria's two main political parties.
Here are the top 10 candidates for the presidency as compiled by Daily Trust:
1. Atiku Abubakar
He served as Vice President of Nigeria from 1999 to 2007 during the rule of former President Olusegun Obasanjo.
He was the presidential candidate in the 2018 elections under the PDP where he was defeated by APC President Muhammadu Buhari.
Atiku is a big businessman and a politician whose political momentum is spreading in the country as a result of his financial strength.
2. Bola Ahmed Tinubu
APC leader Asiwaju Bola Tinubu has not made his intentions clear but his allies and supporters have started campaigning for him.
Although Tinubu is a former Lagos State governor, he stressed that now is not the time to declare his intention for the election campaign but those close to him have started campaigning on his behalf.
3. Rotimi Amaechi
Not long ago, Rt. Hon Rotimi Amaechi, former governor of Rivers State and current minister of transport stressed the need for the APC to respect the zoning agreement reached with the South.
It is clear that he intends to run for the presidency.
Amaechi is one of Buhari's most outspoken ministers in this administration.
He was the director-general of Buhari's campaign in 2015 and 2019. He has experience as the speaker of the Rivers State House of Assembly, the state governor twice, the former Nigerian Governors' Forum chairman and now the minister of transportation.
4. Kayode Fayemi
Although Governor Kayode Fayemi of Ekiti State has not declared his intention to run for president in 2023, the remarks by an APC leader in his state have led to speculation.
5. Rabiu Musa Kwankwaso
There are strong indications that Senator Rabiu Kwankwaso of Kano State will seek the presidency.
Although the former defence minister did not make his intentions clear, he applied for a ticket in the PDP and APC but was unsuccessful.
Kwankwaso, a prominent Kano-based politician, is the leader of the Kwankwasiyya movement.
6. Ahmed Sani Yerima
He held the governorship of Zamfara State from 1999 to 20017. He represented Zamfara West in the Senate and served as Deputy Minority Leader in the Senate.
He is the only person who has expressed his desire to succeed President Buhari in 2023. He made this attempt in 2007 but withdrew to support of Buhari.
7. Aminu Waziri Tambuwal
The governor of Sokoto State won his seat in 2015 through the APC. He was one of the leaders of the party but later left it altogether.
He applied for a presidential ticket with Atiku in the PDP and later returned to Sokoto to vie for the state governorship ticket which he won.
8. Yahaya Bello
There are strong indications that Yahaya Bello of Kogi State is one of the front-runners for President Buhari's seat in 2023.
Campaign posters have already been installed in his state where he has been asked to run for the presidency in 2023.
9. David Umahi
Governor David Umahi of Ebonyi State is one of the South-Eastern politicians thought to want to replace Buhari in 2023.
Umahi, a PDP leader, recently defected to the APC in a bid to win a seat.
Although Umahi said his change of party had nothing to do with his ambition to become president in 2023, politicians were convinced he had not told the truth.
10. Bala Mohammed
Governor Bala Muhammed of Bauchi State was the former Minister for Federal Capital Territory from 2010 to 2015.
Senator Mohammed of the PDP defeated the APC governor in 2019 , a major setback for APC in the state known as President Buhari's stronghold.
The governor did not express his desire but a group in Abuja began calling for him to come forward.