Hoodlums Attack Traders In Osogbo, Reportedly Kill One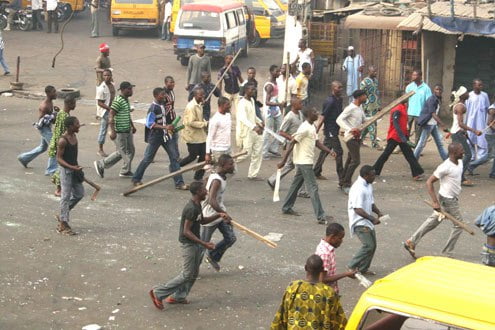 Suspected hoodlums on Friday attacked the Sabo area of Osogbo, the Osun State capital, injuring some traders and others in the vicinity.
Operatives of the Nigeria Police have been deployed to the scene to restore calm to the area, The Punch reports.
But despite the presence of Police gunshots were fired by the hoodlums a few metres away from where the security operatives were stationed.
Speaking to SaharaReporters, a resident identified as Amusa said the attack started late Thursday, adding that the hoodlums had claimed to be mourning a colleague with a candlelight procession before they suddenly launched attacks on traders.
He said a trader was killed in the process, adding that the hoodlums also continued their onslaught and attacked more people in the area on Friday.
Meanwhile, Bishop of Sokoto Catholic Diocese, Mathew Kukah, on Friday, stated that President Muhammadu Buhari has sacrificed the dreams of Nigerians for 'what seemed like a programme to stratify and institutionalise northern hegemony'.
The cleric further stated that the country is heading for darkness under the leadership of Buhari.
He called on the government to explain the mystery behind the endless bloodletting in the country occasioned by insecurity.
The bishop said, "This government owes the nation an explanation as to where it is headed as we seem to journey into darkness. The spilling of blood must be related to a more sinister plot that is beyond our comprehension. Are we going to remain hogtied by these evil men or are they gradually becoming part of a larger plot to seal the fate of our country?
"President Buhari deliberately sacrificed the dreams of those who voted for him for what seemed like a programme to stratify and institutionalise northern hegemony by reducing others in public life to second-class status. He has pursued this self-defeating and alienating policy at the expense of greater national cohesion."