Why Terrorists Are Attacking Schools – Lai Mohammed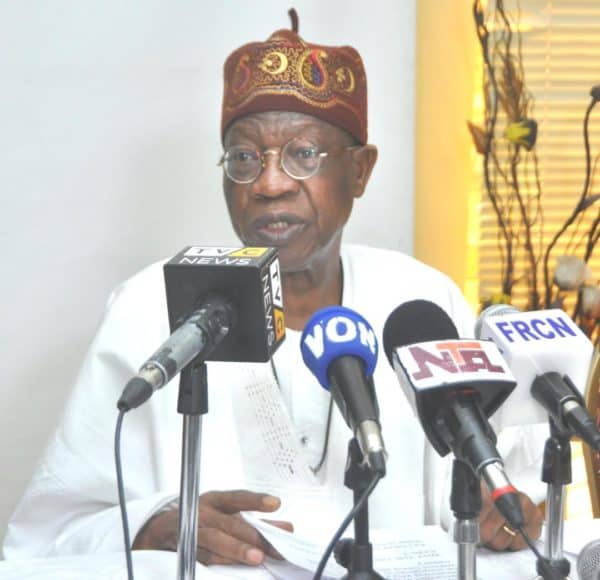 Nigeria's Minister of Information and Culture, Lai Mohammed, has revealed why terrorists are targetting schools in the Northeast and  Northwest of the country.
Mohammed disclosed this while speaking at a Special Forum of the News Agency of Nigeria (NAN) in Abuja on Monday.
He claimed that students are being abducted to embarrass the Muhammadu Buhari-led government and inflict damage on the credibility of Nigeria.
Lai Mohammed pointed out that in other to attract global concerns terrorists were attacking soft targets deliberately.
He said: "These are all terrorists who want to embarrass the government and catch the attention of the entire world.
"The psychology is to inflict the most serious damage on the credibility of a country, giving the impression that if you cannot protect the most vulnerable in the country, such government is incompetent."
Speaking further, he said his only regret is that Nigerians have failed to appreciate that the administration of President Buhari is doing so much for them.
He claimed that no government in the history of Nigeria had implemented programmes alleviating poverty among women and vulnerable groups as well as created jobs for the youths with little resources as the Buhari administration had done.
"My regret in this government is that Nigerians have failed to appreciate that the government is doing much more with much less," Lai Mohammed said.
"2010 to 2014 crude oil was selling from 100 dollars to 140 dollars per barrel, but the highest we have sold since we came in is 60 dollars.
"Sometimes at the peak of COVID-19 pandemic, we were even paying for storage because nobody wanted to take our crude.