Snow Traps Over 1,000 Cars On A Street In Japan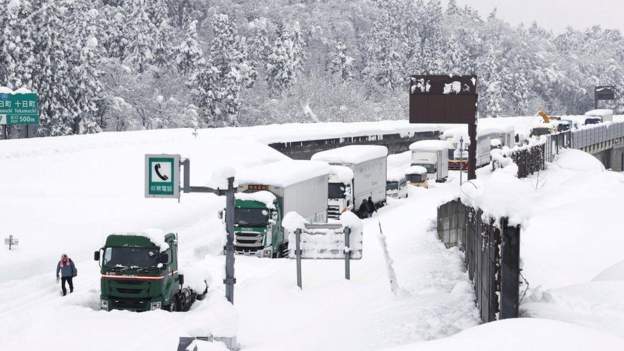 Rescue workers are trying to rescue more than 1,000 cars stranded on a highway for two days after a snowstorm in Japan.
Authorities distributed food, fuel and blankets to drivers on Kanetsu Road, which connects the capital Tokyo with northern Niigata.
The snow, which began to fall on Wednesday, caused traffic jams on the road.
As a result, more than 10,000 homes in the north and west of the country were without electricity.
Kyodo Media reported that there was congestion in various parts of Kanetsun Highway.
The congestion began after a large truck got stuck in the snow on Wednesday night.
Some sources say traffic congestion has reached 16.5km on the road.
Officials have been using several machines to pull out the stranded vehicles one by one, but nearly 1,000 vehicles are still stuck on the road until Friday afternoon.