Kano State House Of Assembly Elects Ibrahim-Chidari As New Speaker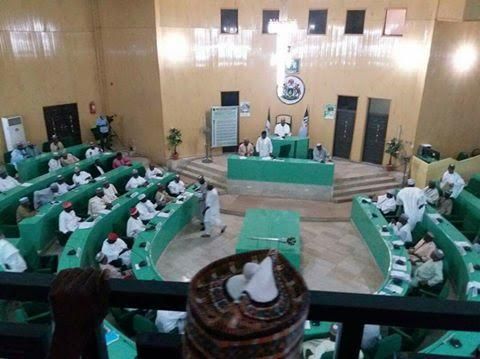 Lawmakers of the Kano State House of Assembly on Tuesday elected Hamisu Ibrahim-Chidari (APC -Makoda) as their new Speaker.
This follows the earlier resignation of Abdulazeez Garba-Gafasa during Tuesday's plenary.
It will be recalled as earlier reported by Naija News that Gafasa and the House Majority Leader, Kabiru Hassan Dashi, have tendered their resignation.
The resignation of the two principal officers of the Assembly was confirmed by the lawmaker representing Doguwa constituency, Salisu Ibrahim Riruwai.
It is understood that the resignation letters were received at 1:08 am Tuesday by the Kano Assembly.
"The speaker resigned on his own personal reason, according to his resignation letter sent to the 9th Assembly platform at 1:08am, while the majority leader did not give reason for his resignation," Ibrahim said.
Also, the Deputy Majority leader, Mr Tasi'u Zabainawa (APC -Minjibir) also resigned his position.
Following the resignations, the Kano Assembly lawmakers nominated Ibrahim-Chidari as the new Speaker. Nuhu Abdullahi (APC -Wudil) made the nomination and the move was seconded by Sunusi Usman-Batayya (APC -Albasu) during Tuesday's plenary.
Ibrahim-Chidari was later confirmed as the new speaker by a majority of the lawmakers through voice votes. Until the appointment, Chidari was the House deputy speaker
Also, the lawmakers elected Mr Hamza Massu (APC-Sumaila) as the deputy speaker while Mallam Labaran Abdul-Madari (APC-Warawa ), was also elected as the new Majority Leader, and Mr Abdullahi Yaryasa(APC -Tudun Wada) emerged as the Deputy Majority Leader.
Meanwhile, two people have died and 21 others have contracted COVID-19 in Kano State in one day.
After a long absence of the disease in Kano State, the chairman of the state COVID-19 Technical Response team, Tijjani Hussaini, said in the last 10 days alone, 85 cases have been detected in the state.
"The spread of COVID-19 is particularly high in December when 85 people were infected in 10 days. In one day it killed two people and arrested 22 others, on Thursday," he said.
He said there were new cases of coronavirus infection in Nasarawa, Birni and other villages, and called on the people of the state to be vigilant.