Boko Haram: Military Mercenaries Make U-Turn, Gives Condition To Help Nigeria Fight Terrorists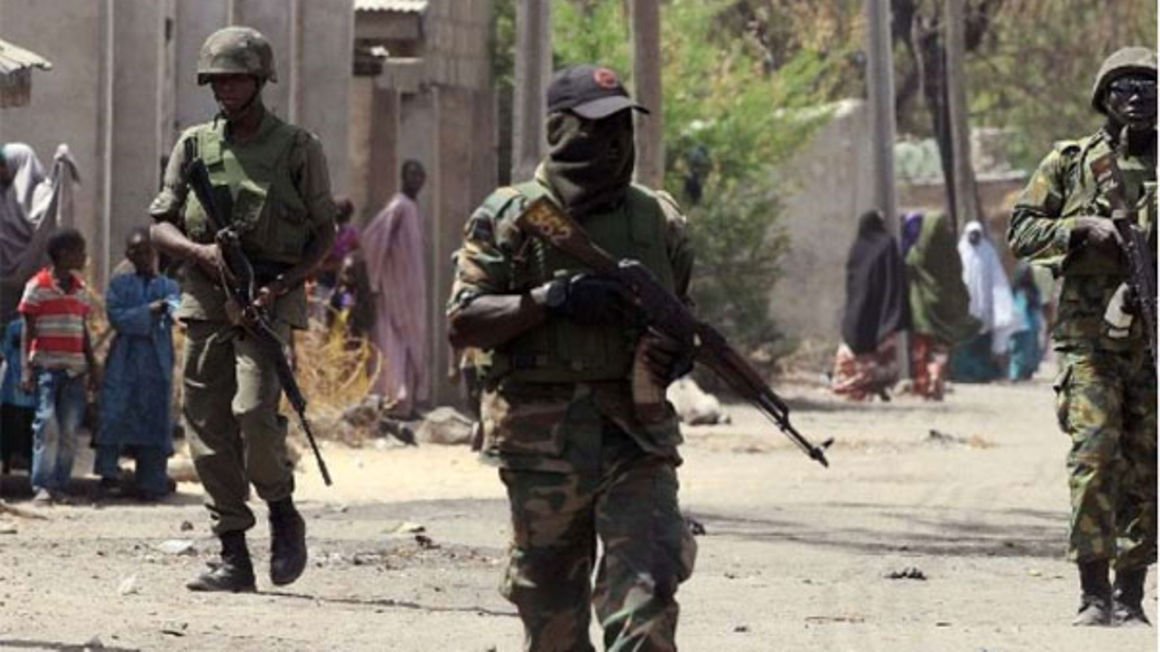 Military mercenaries engaged during the administration of former President Goodluck Jonathan to help fight Boko Haram terrorists in Nigeria have expressed willingness to return to the country again.
According to the South African military contracting firm, Conella Services Ltd, if the present administration led by President Muhammadu Buhari contacts them, they are ready to deploy their expertise, return to Nigeria and finish the work started during the Jonathan administration before they were disengaged by the current administration.
They, however, reiterated that Nigeria as a sovereign nation reserves the right to invite them or not, stressing that if invited, they are willing and ready to return to Nigeria.
A director and spokesperson of the company, whose identity was concealed for security reason, made this known when he appeared on The Morning Show, an ARISE NEWS Channel programme.
It will be recalled that following the recent killing of some rice farmers in Zabarmari in Borno State, the Governor, Professor Babagana Zulum had charged President Muhammadu Buhari to engage the services of foreign mercenaries in fighting against Boko Haram terrorists in Nigeria.
The Defence Headquarters also declared that the final decision on bringing mercenaries to assist in the fight against Boko Haram terrorists can only be taken by the federal government led by President Muhammadu Buhari.
This position was made known by Maj. Gen. John Enenche during a weekly press briefing on activities of the Nigerian military in combating insecurity in the country.
However, the foreign mercenaries according to some earlier sources vowed never to return to Nigeria.
Speaking on condition of anonymity, one of the facilitators of "soldiers of fortune" bemoaned the humiliations, persecutions and prosecutions of foreign mercenaries along with their Nigerian counterparts who participated in the operation after the emergence of the current administration of President Muhammadu Buhari.
The secret agent expressed regret and disappointment that some Nigerian military and intelligence officers who participated in the operation not only were they retired but prosecuted and convicted. He stated that the mercenaries find it difficult to work in a country where their operations, strategy and thinking are exposed to the media and judicial processes.
But the latest information has it that the mercenaries have now backtracked and are ready to return to Nigeria if summoned by the government.
Their spokesperson said: "President Buhari was very clear when he took over the government that he was going to rebuild the military. He understood that the military was not what it used to be. They decided to take the fight to Boko Haram without outside help. Nobody can blame them.
"For a national government to agree to the help of outsiders is a tough cookie to swallow and we understand that. I do wish though that we had a chance to sit down with the current government and explore different ways that we could help them.
"We don't have to be at the forefront of the battle. The air force needs training. We bring in new capabilities. Our approach is different. We study the problem and we have our clients sign off on our training programme. Then we go to work."
He added that "We are bidding our time doing other jobs, but we would like to come back and finish the work that we started in Nigeria."
"My feeling is that there's space for the PMC to come and help Nigeria. Whether in indirect combat or in training or repurposing of training and equipment, all of that can be done."
Though he lamented that a combination of money and politics was responsible for their initial exit, the director stressed that they can collaborate with the military authorities and government leaders to find a solution to the menace caused by the Boko Haram terrorists.
"Politics, unfortunately, overcame military operations. And like any good soldier will tell you, that that's where normally military operations will suffer: when military operations become subject to politics. I believe that was what happened in the end.
"It had nothing to do with the quality of the men or the collaboration. Politics, unfortunately, at that time was what stopped the operation, politics and money," he stated.
He gave some suggestions in fighting the terrorists which he vowed will make them surrender or willing to negotiate with the government.
"Decentralising decision-making, tactics and equipment, those are the things Nigeria has to do. It does not have to buy sophisticated weapons, aircraft etc.
"Solutions can be found. With the application of a little bit of money and with the correct tactics and correct equipment, six to 12 months of operations and Boko Haram will be forced to go to the negotiation table or forced out of existence," he said.
Source: Naija News