Marcus Rashford Speaks On Leaving Manchester United For Another Club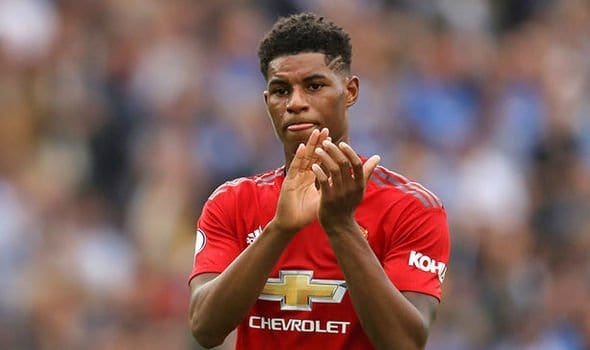 Marcus Rashford, a young professional footballer who plays as an attacker for English Premier League side, Manchester United, has said he had no plans of leaving Old Trafford for another club.
The 23-year-old player while speaking at the British Sports Awards on Thursday night, December 10, revealed that he is remaining with the Red Devils until the end of his professional career.
Naija News understands Rashford joined United while he was at age 7, pushed through the club's youth ranks and headed for his senior debut at the age of 18 in Europa League tie against FC Midtjylland in 2016.
The player has since then become a key player for both his home country and club, netting no less than 77 goals in 232 appearances for the Red Devils as well as 11 goals in 40 games for the Three Lions of England.
Naija News understands that Rashford finished runner-up to Formula 1 world champion Lewis Hamilton in the Sportsman of the Year 2020 category.
The player in his speech insisted in remaining a Manchester United player until he retires.
He said, "For me, I never look beyond Manchester United,"
"As a kid I never looked beyond Manchester United. In my mind it wouldn't sit right for me to be pulling on another shirt. I just want to do my best for the club while I'm here. Long term hopefully."
Speaking about his achievement in football since his childhood, Rashford noted that Manchester United has been his backbone all through even when no one in his family could afford to take his to the training ground.
He added, "All the good things that have happened this year have come from Manchester United giving me an opportunity as a kid. I don't just remember the last year or the last five years."
"I'm talking about when nobody in my family drove and I had to get to training and United had people to come and take me to the training ground and take me back home when I was six, seven, eight, nine.
"The times they put me into accommodation when my mum was struggling at home when I was 11 and I was there up until 16/17.
"It is a lot deeper than what people see sometimes. I think people see some of the stuff that has been happening since I've been in the first team but the bond that I have with United is much greater than these last five years and it will forever be greater than probably my actual career because they are the reason I have become a footballer, they have given me the opportunity to express myself and to find out I had talent in football."
Meanwhile, Paul Pogba's agent, Mino Raiola's has revealed that the midfielder is unhappy at Manchester United and should change clubs in January if given the chance, Naija News reports.