Buhari Invitation: 'AGF Malami's Position Ridiculous And Balderdash'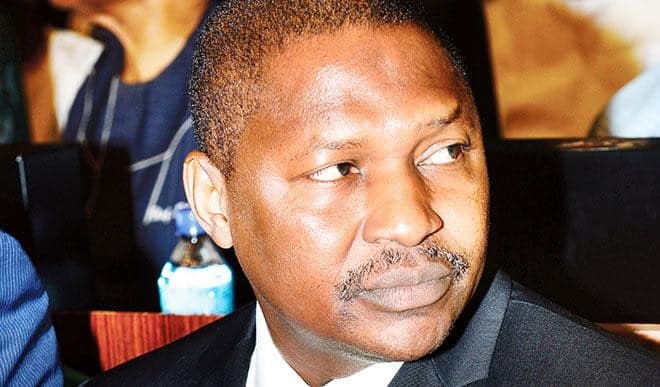 Senior lawyer and presidential hopeful Olusegun Bamgbose has berated the Attorney General of the Federation (AGF), Abubakar Malami, for kicking against the invitation of President Muhammadu Buhari by the House of Representatives.
Naija News reports that President Buhari was scheduled to appear before and brief lawmakers on the security challenges rocking the country on Thursday.
But the Attorney General of the Federation, Abubakar Malami, on Wednesday stated that the constitution gives the president exclusive rights over security and cannot be summoned by lawmakers.
He described the invitation to the president as unconstitutional, adding that it was the right of Buhari to engage the National Assembly or not.
While insisting that Aso Rock is empty, Bamgbose said Malami should be reminded that the National Assembly is a mini Nigeria.
He told Daily Post that the AGF position shows that President Buhari is not accountable to any organ or institution in Nigeria.
"It's like Aso Rock is empty. Nigerians are definitely tired of Buhari. His government is fast becoming boring and uninteresting," Bamgbose said.
"One will have no option but to tell our President to honour the invitation or get prepared to be impeached. Governance has been rendered impotent under this administration.
"The Vice President, Professor Yemi Osinbajo has been rendered redundant. Nigeria is now like a ship without a Captain."
Impeachment
The senior lawyer called on members of the National Assembly to immediately commence impeachment process against Buhari should he fail to honor the invitation.
Bamgbose maintained that Buhari has no business at the Presidential Villa if he won't address Nigeria on insecurity.
"Why must we at every given time beg our President to address us on critical burning national issues. Buhari has no justification to remain in Aso Rock if he won't be prepared to address Nigerians, especially on this burning issue of insecurity," he said.
"He does not deserve the privileges of the President if he can't rescue the citizens from this mess. He should vacate Aso Rock if he can't secure lives and property of the citizens. It's as serious as that."
Source: Naija News