What 36 State Governors, Buhari Discussed At Crucial Security Meeting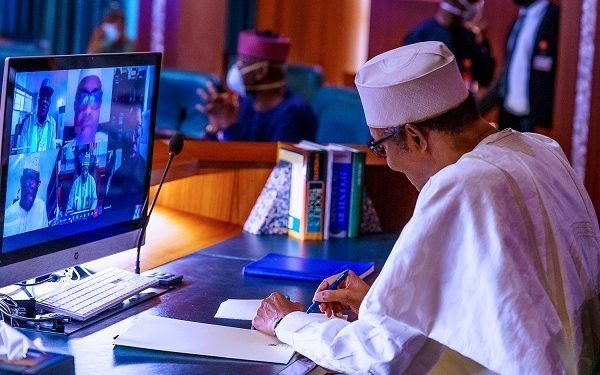 Details of the meeting President Muhammadu Buhari held with Governors from the 36 States at the Presidential Villa on Tuesday have emerged.
Naija News reports that Buhari had gone into a closed-door meeting with the governors after a National Executive Council (NEC) meeting of the All Progressives Congress (APC).
Recall the state Governors had last week resolved to meet with President Buhari over the spate of insecurity in the country.
Speaking in an interview on Channels Television, the Special Adviser on Media and Publicity to Buhari, Femi Adesina, said the president assured governors that his administration is committed to ending insecurity in the country.
He also revealed that Governor Babagana Zulum and other governors from the North-East did not recommend the contracting of mercenaries to combat Boko Haram terrorists in the region.
"No, not specifically, that did not come up; no one governor from the North-East mentioned it in person; it was not something the meeting dwelt on," he said.
Adesina said: "It was quite a fruitful meeting. The governors of the 36 states were invited and near 100 percent of them turned up. It was across parties.
"After the Chairman of the Nigeria Governors Forum, Governor Kayode Fayemi, spoke, then, he invited a governor each from the geopolitical zones and give an account of what was happening, security-wise in their zones."
Adesina said each of the governors spoke on the security challenges peculiar to their regions — North-West (banditry), North-East (Boko Haram), South-West (kidnapping), North-Central (farmers-herders clash), amongst others.
"After that, Mr President responded and they reviewed the accounts together. Where promises were needed to be made, they were made and where explanations were needed to be made, they were equally made," Adesina stated.
He also revealed that President Buhari promised that more equipment was being procured and that some had come.
The president also told the 36 state governors that Nigerian forces needed to be trained on how to use the new equipment.
According to Adesina, Buhari encouraged the governors to work in close contact with the traditional authorities and local communities because intelligence is a big part of security.