Breaking: Benue House Of Rep Member, Hembe Defects To APC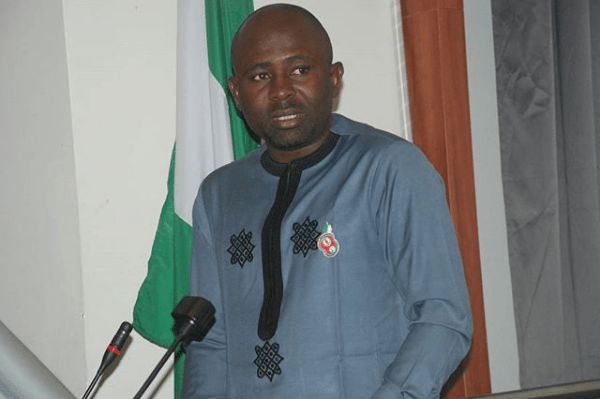 The lawmaker representing Vandeikya/Konshisha Federal Constituency of Benue State, Hon Herman Hembe has defected to the All Progressives Congress (APC).
The legislator announced his defection to the APC from the All Progressive Grand Alliance (APGA) in a letter read during Tuesday plenary by the Deputy Speaker of the House, Hon. Ahmed Idris Wase.
Hembe cited crisis in the Benue State chapter of APGA as the reason for his defection.
However, after his letter of defection was read by the Deputy Speaker, House Minority Leader, Hon Ndudi Elumelu opposed the move, terming it as illegal as he wasn't aware of any crisis in APGA as claimed by Hembe in his letter.
He also asked that Hembe's seat be declared vacant.
"By the grace of God, I am the Minority Leader of this House. I am not aware that there is a crisis in APGA and so, what he has done is illegal and the Speaker should declare his seat vacant. We are going to contest this," Elumelu argued.
But Wase in his ruling on the matter stated that the fact Elumelu wasn't aware of any APGA crisis in Benue does not mean a crisis doesn't exist.
Hembe had expressed appreciation to the Chairman of the Caretaker Committee of the APC, Mai Mala Buni, former Governor of Benue state, Senator George Akume, and former Speaker, Yakubu Dogara for making his defection possible.
In another political news, Naija News earlier reported that there are indications that Senator Ahmad Lawan is facing a backlash from some senators.
The Sun reports that APC senators are now divided, while supporters of Ahmad Lawan are protesting against the extension of the party's interim committee led Yobe State Governor Mai Mala Buni, others opposed to it want it extended.
An unnamed APC senator said the rift between Senator Ahmad Lawan and Governor Buni was only for the 2023 presidential election.
He said Buni was seeking the vice-presidential seat if a southerner was elected president.