CJN Tanko To Swear-In 72 New SANs Next Week (Full List)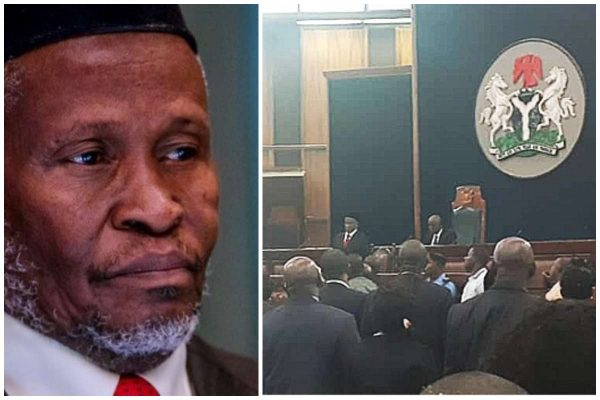 The Chief Justice of Nigeria (CJN), Justice Tanko Muhammad, will next Monday, Dember 14, 2020, swear-in the 72 legal practitioners recently named Senior Advocate of Nigeria (SANs).
Naija News reports that this was made known in a statement on Monday by the Director of Press and Information at the Supreme Court, Dr. Akande Festus.
The statement published by Daily Trust reveals that administering of oath will be at the main Courtroom of the Supreme Court, adding that the event will formally flag off the 2020/2021 legal year of the Court.
Spouses and friends of the 72 newly appointed Senior Advocates will not be allowed into the Courtroom as was done in the past, in strict adherence to the COVID-19 protocol
"Similarly, the number of dignitaries and other stakeholders will equally be limited as crowd will not be allowed inside the Courtroom," the statement reads.
"The Court's Foyer will be handy to accommodate those who will not be admitted into the Courtroom, as the programme will be streamed live on the giants TV screens that are placed in strategic positions within the Court premises.
"For those that will be in their respective homes and offices, they can as well watch the various programmes live on YouTube, Twitter, Instagram, Facebook, Zoom and other social media platforms, as we are ever poised to make everyone have a feel of every single event.
"The Honourable Chief Justice of Nigeria will, as usual, give the state of the judiciary address and also present the score card of the Supreme Court in the outgone legal year, while keeping the nation abreast of the developments in the Nigerian Judiciary."
Full List Of SANS To Be Sworn-in:
Terkura Douglas Pepe, Esq
Aliyu Omeza Saiki, Esq
Jacob Enunwe Ochidi, Esq
Abdulwahab Mohammed, Esq
Moses Alfred Ebute, Esq
Taiye Abimbola Oladipo, Esq
Mumuni Adebimpe Jimoh, Esq
Muhammadu Katu Sani Ndanusa
Mohammed Mohammed Ndarani, Esq
Gideon Musa Kuttu, Esq
Abdullahi Yahaya
Tijanni Alkali Gazali, Esq
Mella Audu Nunghe
Yusuf Nya Akirikwen
Yakubu Abdullahi Hussaini-Ruba
Nasiru Adamu Aliyu, Esq
Abdul Mohammed, Esq
Hussaini Zakariyau
Uwadiogbu Sonny Ajala
Ukachi Fredrick Onuobia, Esq
Joseph Nnabuezeh Mbadugha, Esq
Chukwudi Chudi Obieze, Esq
Afam Josiah Osigwe
Ejike Chukwugekwu Ezenwa
Chukwuka Nwabueze Ikwuazom, Esq
Lotanna Chuka Okoli, Esq
Tochukwu Dominic Maduka
Chukwuemeka Obiajuru Nwagu
Henry Okechukwu Akunebu, Esq
Uwemedimo Thomas Nwoko, Esq
Boma Florence A. Alabi (Mrs)
Efefiom Otu Efiom Ekong
Lawrence Fubara Anga, Esq
Robert Egwuno Emukpoeruo, Esq
Peter Adogbejire Mrakpor, Esq
Richard Oma Ahonaruogho, Esq
Jean Chiazor Anishere (Ms)
Uzoma Henry Azikiwe
Osayaba Omorodion Giwa, Esq
Yusuf Asamah Kadiri, Esq
Babalola George Olatunde
Taiwo Johnson Kupolati, Esq
Obafemi Anthony Adewale, Esq
Adedapo Osariuyime Tunde-Olowu, Esq
Fatai-Ajibola Dalley, Esq
Babatunde Kohn Kwame Ogala, Esq
Bashorun Oluwatoyin Ajoke Ms
Olumide Folarin-David Ayeni Esq
Olusegun Johnson Fabunmi, Esq
John Mofolorunsho Majiyagbe, Esq
Funmilayo Adunni Quadri
Akinola Olugbenga Akintoye
Dada Adekunle Awosika
Remi Peter Olatubora, Esq
Festus Kayode Idepefo, Esq
Rasheed Okiki Adegoke, Esq
Musibau Adetunbi, Esq
Mahmud Kola Adesina, ESQ
Isiaka Abiola Olagunju, Esq
Oladapo Akande Akinosun, Esq
Nureini Soladoye Jimoh, Esq
Oluseun Mobolaji Abimbola, Esq
ACADEMICS
Prof Afeisimi Dominic Badaiki
Prof Bolaji Olufumunmileyi Owasanoye
Prof Erugo Sampson
Prof Oyewo Edward Oyelowo
Prof Sani Mohammad Adam
Prof Zacheus Adangor
Prof Festus Oghenemaro Emiri
Prof Joseph Efeyemineni Abugu
Prof Sunday Damilola Sunday
Dr Omoh-Eboh Omgbai Ikheowa