Why Medical Panel Should Examine Buhari's Mental State – Ezekwesili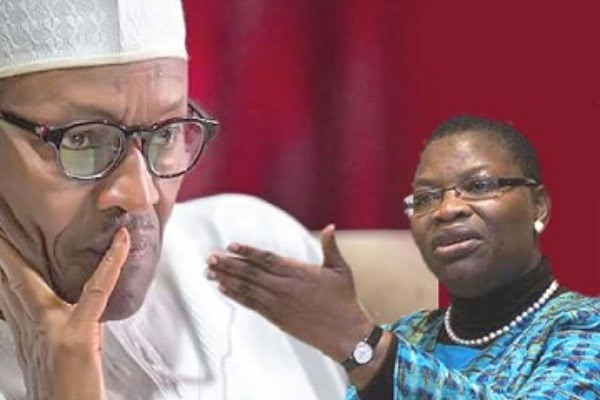 A former Presidential aspirant and Minister of Education, Obiageli Ezekwesili, says President Muhammadu Buhari's mental state should be examined by a medical panel.
Naija News reports that Ezekwesili who is the convener of the Bring Back Our Girls (BBOG) group, made this comment in reaction to the insecurity in Nigeria and the President's body language especially after the massacre of 43 farmers by Boko Haram terrorists in Borno State.
This online news platform recalls that 43 farmers were slaughtered in the early afternoon of Saturday in Koshobe village and other rural communities in the Jere local government area near Maiduguri in Borno State, northern Nigeria. The death toll from the attack has risen to 110 according to a United Nations report published by Aljazeera.
Reacting to the development, Ezekwesili said Nigerians have the right to know the mental and physical capability of President Buhari to discharge the functions of his office, adding that the President's rights to medical privacy should be sacrificed.
Her words: "I think that at this stage and depth of fragility of the Nigeria-State, Privacy has to yield ground to our Right-to-know as citizens, the state of health of @MBuhari," Oby said on Sunday.
"We really must assess the physical or mental capability of @NGRPresident to carry on the duties of office.
"Citizens can collectively push for an Independent Panel to help us make the critical medical determination of the state of mind and body of our President, @MBuhari.
"The conditions of Nigeria have become too grave for us all to sit still and watch a train wreck in the making."
The Human rights activist cum politician said the medical evaluation should not be carried out by the Aso Rock Physicians as according to her "we obviously cannot trust the State House Physician."
"As an extremely concerned citizen, I hereby demand for a #MedicalPanelOnBuhari since we obviously cannot trust the State House Physician to provide us accurate information.
"It is reasonable to demand now for citizens to have full disclosure on the state of health of @MBuhari."
I think that at this stage and depth of fragility of the Nigeria-State, Privacy has to yield ground to our Right-to-know as citizens, the state of health of @MBuhari .

We really must assess the physical or mental capability of @NGRPresident to carry on the duties of office.✍?

— Oby Ezekwesili (@obyezeks) November 29, 2020