Biafra: IPOB Takes Major Decision On Deputy Leader Position After Uche Mefor's Resignation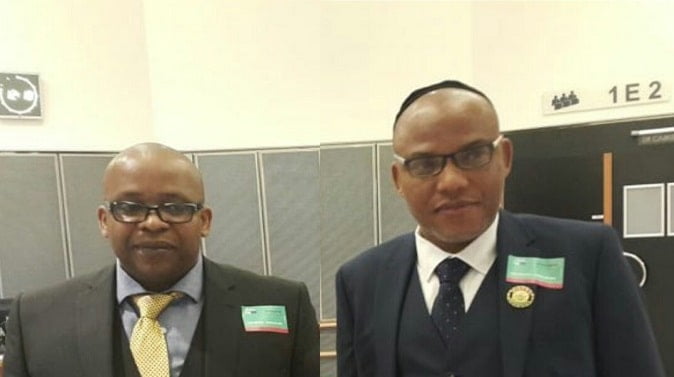 The Indigenous People of Biafra (IPOB), a proscribed secessionist group in Nigeria led by Nnamdi Kanu, has scrapped the office of the deputy leader.
Naija News reports that the IPOB scrapped the office of the deputy leader after Nnamdi Kanu's deputy, Uche Mefor tendered his resignation as IPOB Deputy Leader.
Confirming the scrapping of the Deputy leader position in a statement on Friday, head of IPOB Directorate of State China Edoziem accused Mefor of "insubordination and disobedience".
The statement reads as thus; "Mefor was instructed by our leader to be attending his unit meetings in London and pay his monthly dues as everyone else does but he disobeyed this simple instruction from his leader with the excuse that he as the deputy leader will neither attend unit meetings or pay monthly dues because he is entitled to same privilege accruing to Mazi Nnamdi Kanu as leader of IPOB worldwide.
"The office of the deputy leader of the IPOB is abolished with immediate effect and ceases to be a part of the IPOB leadership structure.
"Henceforth nobody should be referred to as the deputy leader of IPOB. Throughout the history of freedom fighting there is nothing like deputy leader," the statement read.
Earlier, Naija News had reported that there seems to be a crack in the Indigenous People of Biafra (IPOB) with Nnamdi Kanu, said to be having a feud with his deputy, Uche Mefor.
In the report, Naija News had stated that Mefor, who was Kanu's right-hand man and former deputy leader of the proscribed Indigenous People Of Biafra (IPOB), deleted his Facebook page and disappeared into the thin air.
Barely two weeks after the report, Mefor officially dumped the IPOB leader by Nnamdi Kanu and also Radio, in which Nnamdi Kanu is the Director and floated his own radio station.
Mefor's latest action and also deleting his Facebook page finally collaborate with the crack in the leadership of the Indigenous People of Biafra (IPOB) that was earlier reported in August.
The former IPOB leader seems not to have been okay with Kanu's approach especially with his claims that Nigeria's President Muhammadu Buhari is dead and had since been replaced.
Naija News had reported that Kanu had said in the past that Mefor had on several occasions cautioned him on his claim that President Muhammadu Buhari was dead and had since been replaced byJubril Al-Sudanni from Sudan.
"I keep saying this every time, my Deputy, Uche Mefor will say don't say it, don't say that Buhari is dead", Kanu had said during one of his broadcasts on Radio Biafra in February.