Black Friday: Nigerians Mock Kano Hisbah Board Over 'Letter Of Notofication'
The Kano State Hisbah Board has come under ridicule by members of the public over an official letter it sent to a radio station in the state.
According to the letter, the radio station had planned a 'Black Friday' sales promotion event but the Hisbah board in its reaction noted that tagging Friday which is regarded as holy day in Islam as 'black' might not be acceptable to the people of the state who are predominantly Muslims.
The letter, signed by Principal Executive Officer II, Abubakar Ali, on behalf of the Commander-General of the Kano Hisbah board added that corps of the board will be on the ground to ensure nothing immoral is done during the event.
The letter reads: "I am directed to write and notify you that the office is in receipt of a complaint for the conduct of 'Black Friday Sales' on November 27, 2020.
"Accordingly, we wish to express our concern on the tagging of Friday as 'Black Friday' and further inform you that the majority of the inhabitants of Kano State are Muslims that consider Friday as a holy day.
"In view of the foregoing, you are requested to stop calling the day 'Black Friday' with immediate effect and note that the Hisbah Corps will be around for surveillance purposes with a view to avoiding occurrence of any immoral activities as well as maintaining peace, harmony and stability in the state."
However, away from the content of the letter, Nigerians observed major grammatical errors in the said letter where notification was written as 'notofication' and manager was written as 'manger.'
They also questioned the rationale behind terming a globally accepted 'Black Friday' which is meant to push sales at discounted prices as evil by the Kano Hisbah board.
See the image below.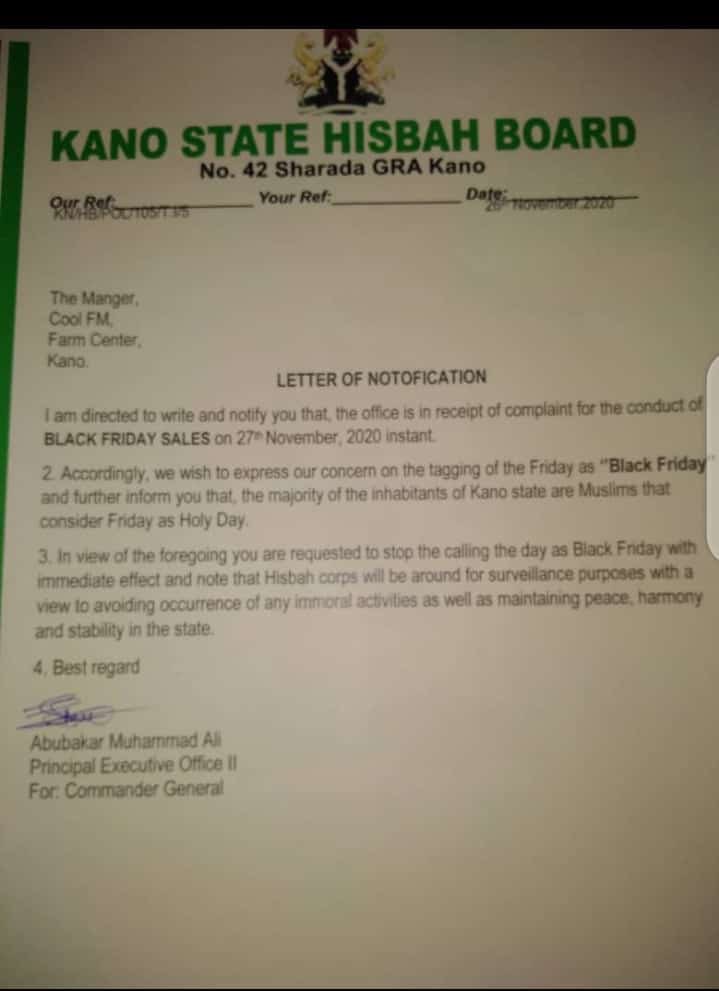 This has prompted reactions from Nigerians on Twitter who wondered why such errors could have been permitted on an official letter.
"The Manger" at Cool FM after reading Hisbsh's Letter of Notofication. pic.twitter.com/F5pkf7Dvdt

— That Hybrid Guy (@Zuronye) November 27, 2020
Omo this level of illiteracy is very deep??? no be their fault na Lord luggard cause am???
Letter of Notofication?? pic.twitter.com/dV60l7INPr

— Giddy Arts (@GiddzArts) November 27, 2020
The contents of this letter of "notofication" is further proof that this union is doomed.

These guys deserve another country. pic.twitter.com/6eixBWahQb

— KJ Mensah (@kaymensah) November 27, 2020
Kano Hisbah told CoolFM to cancel Black Friday.

"Black Friday" is to promote sales and give people cheap offers. It helps businesses. It helps ordinary people.

Same way "sunday sales" has nothing to do with christianity, "black friday" has nothing to do with Islam.

Thank you.

— #OurFavOnlineDoc ?????? (@DrOlufunmilayo) November 27, 2020
"The Manger" "LETTER OF NOTOFICATION" ?

Reading this letter from Hisbah, I can feel my IQ reducing ?? https://t.co/M1XdF1AMMl

— Osas Cruz (@theOsasCruz) November 27, 2020
Black Friday . See what religious gullibility, credulity, and naiveness can do to some crazy, radical and brainwashed fanatics.

The North should quit being religious extremists. Hisbah Police and unending drama!!!!

Letter of Notofication. ??????? pic.twitter.com/dcIcgVZYdv

— SleepyBuhari ????? (@NIGRpresident) November 27, 2020
Dear Hisbah, so Boko Haram and armed Bandits are not your problem, but Black Friday is?

Continue deceiving yourselves

Letter of Notofication ko, Totorious Bandits ni.

— Uncle Mark™ (@iamUncleMark) November 27, 2020
Kudos to the Principal Executive Officer of @KanostateNg Hisbah Police for choosing to embarrass himself in a "Letter of Notofication to the Manger of Cool FM."

In summary, the management of this group are bunch of illiterates.

Hope they will do a research on Black Friday soon. pic.twitter.com/bow6BpKOCC

— Barbatuneday™️ ? (@barbatuneday) November 27, 2020
Wow!! These guys will now come out tomorrow to call some whites racist after we the blacks now see black as evil?? It is not even the blunder "letter of notofication" and "the manger" but the stupid mentality of thinking black is bad and evil. Tuehh ? I can't believe I share…. pic.twitter.com/fYCA3la7uf

— The30bgNipple_god ?? (@Oluwajuwonlo232) November 27, 2020
Hisbah : the manger
Letter of notofication
Cool FM manager : pic.twitter.com/3p4IrCTtuQ

— David Sly (@david4sly) November 27, 2020
Letter of notofication
North of Nigeria always taking religion to the extreme. When do we stop regarding colors with meaning? Red is evil, black is bad, white is good. We need to stop this mentality.?

— One_Liter (@boanerges00072) November 27, 2020