Lady Pours Hot Water On Her Brother For Stopping Her From Dating A Married Man – [Photos]
A lady whose nickname is identified as Moda has allegedly splashed boiled water on her brother who confronted her about having an affair with a married man.
According to the victim, while narrating the incident to a friend on social media, his younger sister has been dating a married man who lives opposite their apartment and his wife, who is aware, had threatened to pour acid on his sister (Moda).
In his attempt to prevent the terrible event from happening, the young man said he approached his sister and warned her on the relationship with the married man. The conversation, however, became heated and Moda after she had invited her police boyfriend to the house against her brother, allegedly poured hot water on the brother while trying to narrate their argument to their father and everyone around.
See the post below.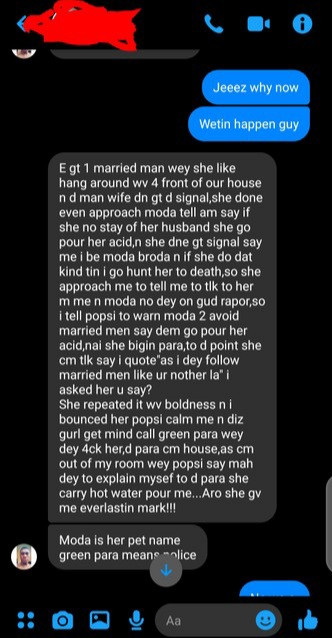 In another news earlier, Naija News reports that Police have arrested a hoodlum who joined others to hijack the #EndSARS protest in Edo and participated in the looting of a police station in the state
The Suspect, Sunday Effiong who was arrested for robbery was paraded on November 23, Naija News reports.