Reactions As Cardi B Comments On BB Naija's Erica Dressing
Grammy award-winning American rapper, Cardi B set social media on fire after she commented about the dressing of former BB Naija housemate, Erica.
The American singer clearly stated that she liked the dress worn by reality TV star, Erica in a recent picture uploaded on social media.
After the reality TV star uploaded the picture, an internet troll had attempted to mock her by comparing the dress to a similar one by Cardi B which most likely inspired Erica's version.
The troll who shared both pictures, labelled Cardi B's version as 'grammy style' and tagged Erica's version as 'grandma style.'
However, Cardi B who commented after she came across the pictures on social media replied "I like it tho. It's different and classy, mine is different and edgy."
See the screenshot below.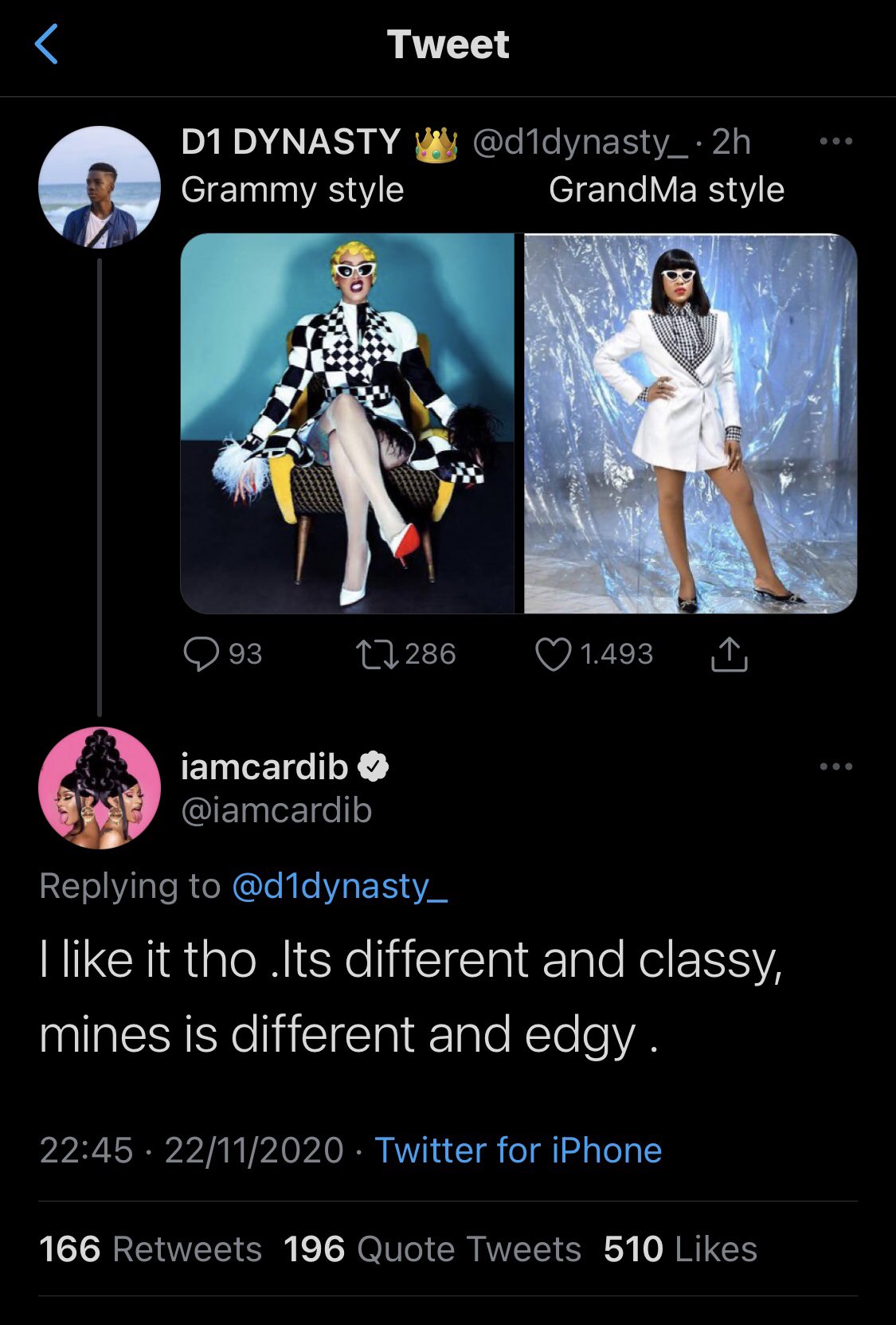 An excited Erica also commented, stating she was trying to be edgy like the American rapper.
Below are some comments from fans of Erica who commonly refer to themselves as elites on the incident.
But for real Cardi B's COMMENT "CLASSY AND DIFFERENT" is the most interesting thing to look at it's giving me goosebumps, Hahahah Haters UNa GO DiE has become too small this round sha????? #EricaAlwaysWins pic.twitter.com/ZRwOiDxlkV

— Hamdaa (@ItsHamidaaaA) November 23, 2020
Now y'all know that Cardi B's comment is not an achievement but it is an achievement when y'all were trolling Erica. Allow us to milk the comment in peace because you will still do so if it was your favorite.Tag international celebrities too but know that #EricaAlwaysWins pic.twitter.com/D8tYUDpjCH

— Blah blah blah (@Joi_Coco) November 23, 2020
Y'all keep trolling ppl to success oo?? Erica my dear milk this help me and famz cardi well I love their tears ?? u guys are sisters now dear?? pic.twitter.com/JoEVmyDxgq

— ⭕lanrewaju? (@its__Lanray) November 22, 2020
Yes oooo, wahala for who no stan different and Classy Erica.
Double Wahala for dead body, if Cardi B has never complimented your fave ???????? https://t.co/CXdEUKE1LE

— Eki || Elite Defense (@ekiloui) November 22, 2020
Cardi B has spoken!! Ona go dieeeee ?????? Erica baby, keep pressing the necks of the deprived pic.twitter.com/hDv2KocSVj

— sandy baby ? (@sandybabyonyii) November 22, 2020
Just when y'all wanted to drag Erica.

Boom!!! Cardi B commends Her style. And double boom! She wins another award????

Bold of y'all to assume Star Girls progress is hinged on y'all's cynical opinions.

That girl is on another level!
Congratulations Erica❤️#AllAboutErica

— Fyne (@Meechee_Jo) November 22, 2020
You people dragged Erica's suit to the point Cardi B had to set y'all straight. I love it pic.twitter.com/fPEA5o5CZL

— The Grande Dame (@its_flankiee) November 22, 2020
They said Elites will milk Cardi B's response…ona never see anything ???#EricaAlwaysWins pic.twitter.com/ukBTc6eV2i

— Anike Olusunmade (@AnikeOlusunmade) November 23, 2020