'They Are Very Stupid' - El-Rufai's Son Blasts Muslims Who Condemned Pictures With His Wife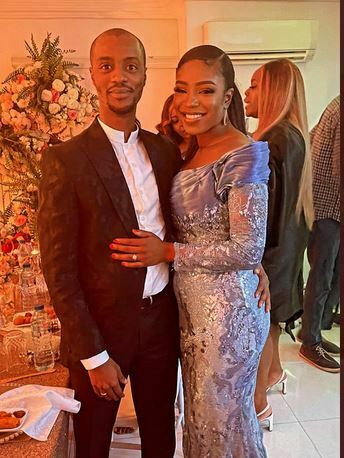 Bashir El-Rufai, the son of Nasir El-Rufai, the governor of Kaduna State, northern Nigeria, has berated some Muslims who "felt offended" with the pictures of him and his wife.
Naija News reports that El-Rufai's some had taken to the micro-blogging site, Twitter to upload photos of him and his new wife. In one of the pictures, the son of the governor could be seen grabbing "his property" in a manner that seemed to be provocative to some Muslims.
— Bashir El-Rufai (@BashirElRufai) November 17, 2020
Displeased with the photos, some Twitter users who are believed to be Muslims, trooped to the comment section of Bashir's post to berate the governor's son for what they described as an improper way of behaving which they claimed is against Islam.
A Twitter user and a supposed Muslim wrote: "Expecting to have religiously educated child from this kind of Muslim couples is the highest self-deception, however, that the kind of training he received at home, I have never seen his mum wearing a veil (hijab) even once, this is the result of not choosing your child a good mum."
Another added: "Why you dey grab woman yansh ? This is blasphemy against our holy prophet SAW" but got a reply: "Get your facts right bro. It's when you blast the Yansh that it's blasphemy not when you hold it."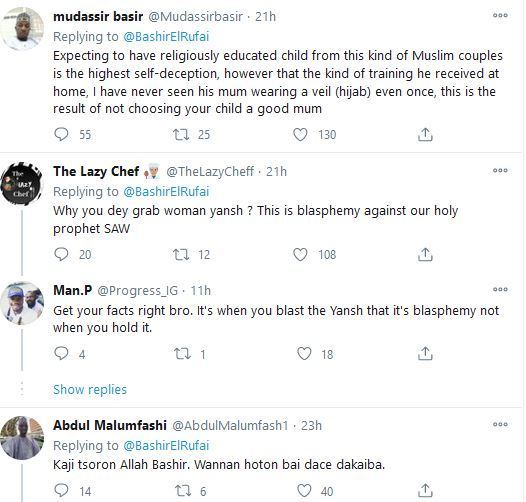 Displeased with the attacks he received for posting a photo of him and his wife, Bashir wrote: "If my pictures with my wife do not sit well with some & due to the various unsolicited opinions, I'd just like to use this opportunity to say that they are very stupid & if there's any other way these pictures can make them feel worse than they already do, please let me know."
If my pictures with my wife does not sit well with some & due to the various unsolicited opinions, I'd just like to use this opportunity to say that they are very stupid & if there's any other way these pictures can make them feel worse than they already do, please let me know.

— Bashir El-Rufai (@BashirElRufai) November 18, 2020
Source: Naija News