Nigerian Stock Exchange Rebounded After Two Days of Decline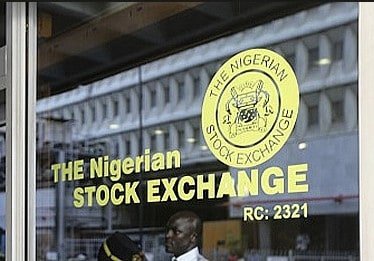 The Nigerian Stock Exchange (NSE) rebounded on Wednesday after declining for two consecutive days.
The All-Share Index gained 1.68 percent or 575.18 index points to settle at 34,818.01 index point, up from 34,242.83 it closed on Tuesday.
While the market value of listed stocks gained N300 billion from N17.893 trillion on Tuesday to N18.193 trillion on Wednesday.
Transcorp led the most traded stocks with 160,581,039 shares valued at N172,162,722.21. GTBank trailed Transcorp with 70,682,345 shares worth N2,620,041,612.70.
Zenith Bank, Access Bank and First Bank Holding of Nigeria followed with 57,303,612 shares, 55,177,145 shares and 37,622,296 shares estimated at N1,539,255,449.45, N491,877,136.50 and N295,921,833.05.
Dangote Cement led the highest gainers with N7.9 or 4.22 percent to close at N195 per share, while the Nigerian Breweries came second with N4 or 7.41 percent to settle at N58 per share. See the details below.
Top Gainers
| Symbols | Last Close | Current | Change | %Change |
| --- | --- | --- | --- | --- |
| DANGCEM | N187.1 | N195 | 7.9 | 4.22% |
| NB | N54 | N58 | 4 | 7.41% |
| WAPCO | N22 | N24.1 | 2.1 | 9.55% |
| DANGSUGAR | N21 | N22.25 | 1.25 | 5.95% |
| ZENITHBANK | N25.9 | N26.7 | 0.8 | 3.09% |
Top Losers 
| Symbols | Last Close | Current | Change | %Change |
| --- | --- | --- | --- | --- |
| STANBIC | N46 | N44.85 | -1.15 | -2.50% |
| ARDOVA | N16 | N15 | -1 | -6.25% |
| UNITYBNK | N0.86 | N0.8 | -0.06 | -6.98% |
| CORNERST | N0.58 | N0.53 | -0.05 | -8.62% |
| TRANSCORP | N1.1 | N1.05 | -0.05 | -4.55% |
Source: Naija News