Donald Trump Declares Himself Winner Of US Election 2020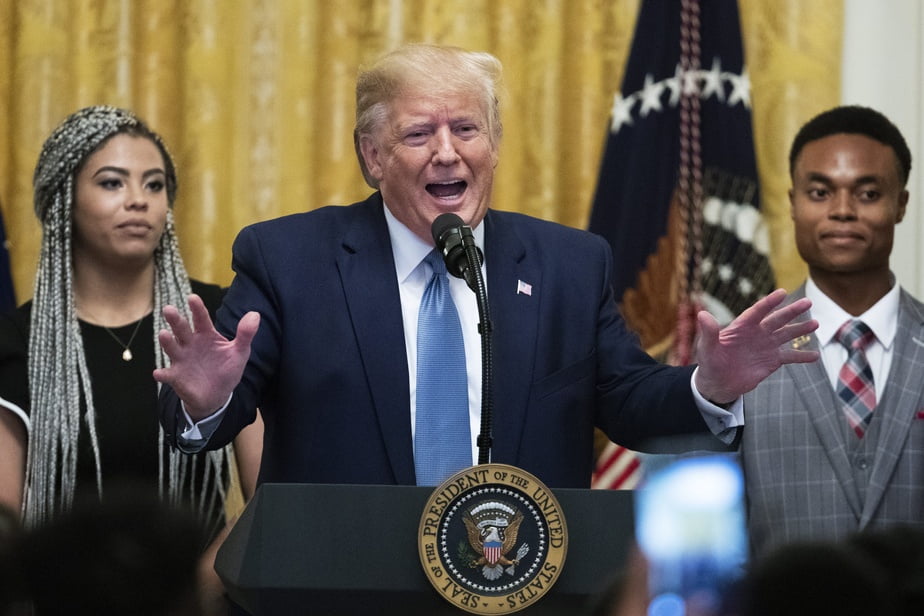 The President of the United States, Donald Trump, has declared himself the winner of the US Election 2020.
Naija News reports that President Trump declared himself the winner of the US election in a tweet on Monday morning, November 16 by simply tweeting: "I won the election".
The "false claim" got the attention of Twitter as the micro-blogging site responded moments later by tagging the tweet with a link that says: "Official sources called this election differently."
I WON THE ELECTION!

— Donald J. Trump (@realDonaldTrump) November 16, 2020
This online news platform recalls that former United States Vice President, Joe Biden and his Democratic Party running mate, were projected winners of the November 3 US election on 10 November, a projection that didn't sit well with Trump.
In a continuation of his Twitter rants since Sunday, when he first acknowledged that Joe Biden was the winner of the election, then simultaneously, he claimed the victory was because the election was rigged, Trump later tweeted that he was not going to concede as he planned to file 'big cases' soon.
The United States President continued the theme of election rigging in three other tweets in Monday Twitter rant which was flagged by Twitter as 'disputed claims'.
Trump tweeted: "Why does the Fake News Media continuously assume that Joe Biden will ascend to the Presidency, not even allowing our side to show, which we are just getting ready to do, how badly shattered and violated our great Constitution has been in the 2020 Election.
Why does the Fake News Media continuously assume that Joe Biden will ascend to the Presidency, not even allowing our side to show, which we are just getting ready to do, how badly shattered and violated our great Constitution has been in the 2020 Election. It was attacked,..

— Donald J. Trump (@realDonaldTrump) November 16, 2020
"It was attacked, perhaps like never before! From large numbers of Poll Watchers that were thrown out of vote counting rooms in many of our States, to millions of ballots that have been altered by Democrats, only for Democrats, to voting after the Election was over, to using Radical Left owned Dominion Voting Systems, turned down by Texas and many others because it was not good or secure, those responsible for the safeguarding of our Constitution cannot allow the Fake results of the 2020 Mail-In Election to stand. The World is watching!"
….perhaps like never before! From large numbers of Poll Watchers that were thrown out of vote counting rooms in many of our States, to millions of ballots that have been altered by Democrats, only for Democrats, to voting after the Election was over, to using Radical Left

— Donald J. Trump (@realDonaldTrump) November 16, 2020
….owned Dominion Voting Systems, turned down by Texas and many others because it was not good or secure, those responsible for the safeguarding of our Constitution cannot allow the Fake results of the 2020 Mail-In Election to stand. The World is watching!

— Donald J. Trump (@realDonaldTrump) November 16, 2020
Source: Naija News