Tunde Bakare Fires Buhari Govt For Freezing #EndSARS Promoters' Accounts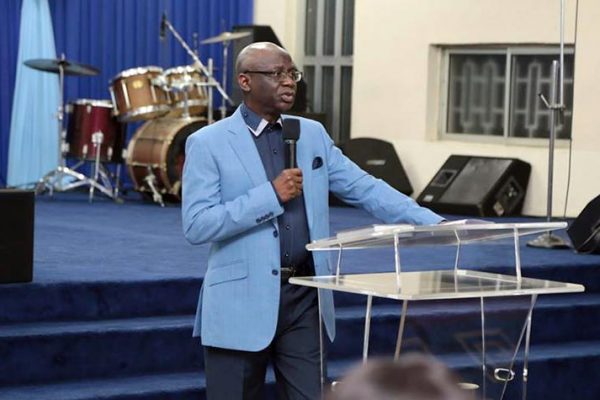 Tunde Bakare, the Senior Pastor Citadel Global Community Church, formerly known as Latter Rain Assembly, has berated the federal government for freezing of #EndSARS promoters' accounts.
Speaking on Sunday during the church's special service, Pastor Tunde Bakare called on the federal government to retrace its step and reverse some of its actions against #EndSARS protesters.
He said, "This season of our national life requires deep humility, sobriety, and deliberate thinking through, both by the government and the governed, to ensure that our plans, policies, and actions are weighed before they are implemented to avert the re-occurrence of our most recent crisis.
"Some of the actions recently taken by the government on the heels of the #EndSARS protests may need to be reversed sooner rather than later in our collective best interest so that they do not trigger further protests.
"Among such policy actions is the freezing of the accounts of young Nigerians who reportedly sponsored the protests. While I admit that, under our extant laws, banks may freeze an account upon an ex parte order granted to a law enforcement agency by a court of competent jurisdiction for the purpose of an investigation, these provisions of our Law should not be used to intimidate Nigerian youth simply because they engaged in and promoted protests against the inactions of government.
"Targeting and arresting citizens on trumped-up charges, deploying court probes as a tool of intimidation, and generally eroding our fragile peace, are deeply worrisome signs of regression."
Bakare also warned against the federal government carrying out actions capable of breaching the rights of youths to express themselves freely.
Naija News reports that the Central Bank of Nigeria (CBN) had asked the Federal High Court to freeze accounts of 19 Nigerians and a public affairs company linked to the End SARS protests.
The CBN request was granted by a Federal High Court in Abuja, Nigeria's capital. The request which was filed before the court on October 20 was granted by Justice Ahmed Mohammed.
According to reports, some Nigerian banks were directed to freeze all transactions on the 20 accounts on the list annexed to the CBN's application as Exhibit A and all other bank accounts of the defendants/respondents for a period of 180 days pending the outcome of the investigation and inquiry currently being conducted by the Central Bank of Nigeria.
#EndSARS promoters affected by the order include Wisdom Busaosowo Obi, Nicholas Ikhalea Osazele, Ebere Idibie, Akintomide Lanre Yusuf, Uhuo Ezenwanyi Promise, Bolatito Racheal Oduala, Chima David Ibebunjoh, Mary Doose Kpengwa, Saadat Temitope Bibire, Bassey Victor Israel, and Mosopefoluwa Odeseye.
Others are; Babatunde Victor Segun, Mulu Louis Teghenan, Mary Oshifowora, Winifred Akpevweoghene Jacob, Victor Solomon, Idunu A. Williams, Adegoke Pamilerin Yusif. Umoh Grace Ekanem, and Gatefield Nigeria Limited.