Ebonyi Commissioner Dumps Umahi As Defection To APC Draws Near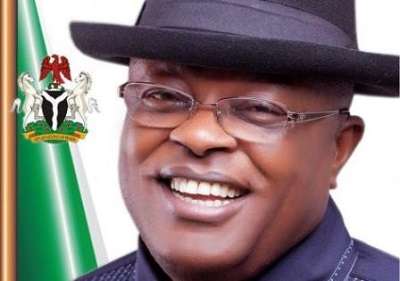 The Ebonyi State Commissioner for Inter-Governmental Affairs, Hon Lazarus Ogbee, has resigned from the government of David Umahi.
Ogbee's resignation was contained in a letter dated November 12, 2020, titled, "Resignation of Appointment As Honourable Commissioner."
Naija News reports that his defection may be connected to Umahi impeding defection from the Peoples Democratic Party (PDP) to the All Progressives Congress (APC).
Umahi's defection to the APC is all but confirmed after he informed the leadership of the PDP.
Recall that Umahi had informed the leadership of the PDP that he would be defecting to the ruling party to protect the interest of the South-East in the 2023 elections.
However, the National Chairman of the PDP, Uche Secondus and others tried to persuade him not to dump the party.
The PDP leadership tried to persuade Umahi that there is no need for him to leave for APC which has no presence in the region.
But Umahi had promised to stay in PDP if the party zone the presidency to the South-East in 2023.
Resignation Letter
In his resignation letter, the former Commissioner refused to disclose why he was resigning, saying it was personal.
"I wish to inform his Excellency that I have decided to resign my appointment as the Honourable Commissioner for Inter-Governmental Affairs in the Ebonyi State Government, effective from today, Thursday, November 12, 2020," he wrote.
"The reason for my resignation is personal as I thank your Excellency for the opportunity given to me to serve as a Commissioner in the state.
"I equally thank the Peoples Democratic Party family and my colleagues in the Executive Council for the cordial working relationship I enjoyed while in office as a Commissioner.
"Please be informed that the official car with Chassis No. KMH3813DLU109706, Model-Hyundai Tucson Jeep, Colour-Metalic Ash and other Government property attached to my office are to be duly handed over to the Secretary to the State Government with immediate effect.
"May God bless you as we look forward to a better Ebonyi State."
PDP To APC
But speaking to Punch on the condition of anonymity, a PDP chieftain in Ebonyi said more members of the Executive Council would follow Ogbee's path and resign.
He stated that members of the Ebonyi government, apart from Governor Umahi, were against the decision to defect to the APC.
The source said: "We are not surprised that Ogbee resigned. He wouldn't be the only one to do so. Many will still and soon join him. The last meeting of EXCO was an eye-opener. The Governor made it clear. He said anybody who is not comfortable with his going to the APC and not willing to follow him, should resign. So, that's the result. Ogbee just started it."