Reactions As Photos Of Dilapidated Court Building In Gombe Surfaces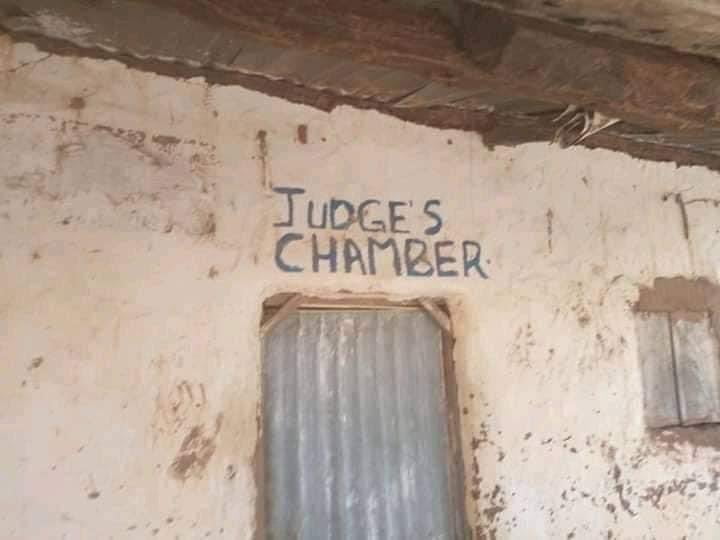 Nigerians have taken to social media to condemn an Akko Area Court Amada in Gombe State after photos of the dilapidated court appeared on the internet.
There were three poor office tables and a bench in the inside of the dilapidated court, Naija News observed.
As seen in the photos, there was also a local hand fan and some record books on one of the tables. On the outside of the court which looked like an abandoned community meeting point, were two local resting seats also.
Reacting to the photos, Nigerians on social media described the court structure and state officials' activities as 'misuse of power and opportunities.'
"Misuse of power and opportunities .. audio richest, yet still the capital of poverty…one elephant thousand ants.. if u no understanding, na u sabi," said one ZAMANI IFEDILICHUKWU [@zamaniokey] on the microblogging site.
Recalling how the Northern NBA was set up to challenge the Nigeria Bar Association for rejecting Governor Nasir El-Rufai's participation in a recent conference, one Dash™ Scorpion [@147_dash] tweeted; "These are the ones that formed Northern NBA that tried to question the entire NBA as to why they rejected El Rufai as a keynote speaker in the convention? THESE ones??? Shame on them."
Also, one St. Claire [@IneClaire] who condemned protest against Kannywood actress, Rahama Sadau's recent outfit said; "This is what they are supposed to protest for, They are protesting against Rahama Sadau's dress."
See photos of the dilapidated Gombe court that causes stirs on social media.