How Tinubu's Alpha-Beta Allegedly Transferred Billions To Company Owned By TVC, BRT Executives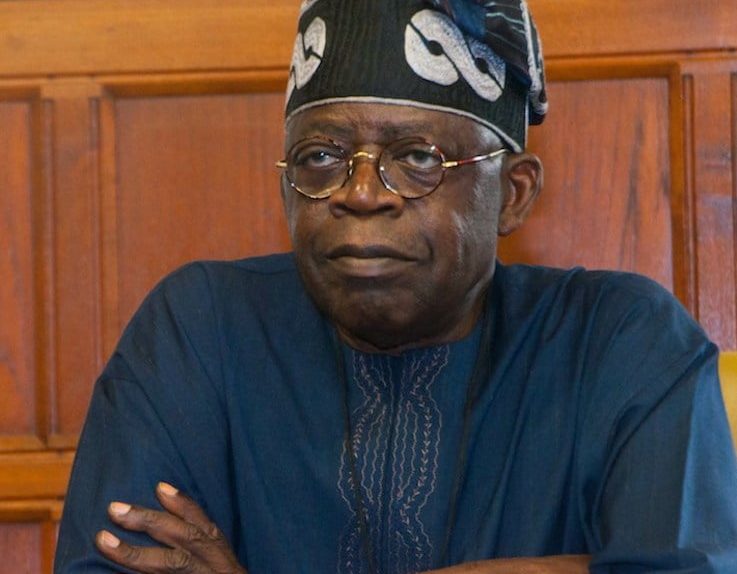 The National Leader of the All progressive congress party, Bola Tinubu and his company has been thrown into another messy water of corruption and fraudulent allegation.
According to a report monitored by Naija News from the people's gazette,  Bank documents expose how Tinubu's Alpha-Beta transferred N1.75 billion to Ocean Trust Ltd (a company run by TVC, BRT executives) in three transactions of unclear origin.
The reports revealed that  Ocean Trust has no physical address in Nigeria, but its CAC filings showed it was registered in 2001 the registered office address in the CAC filings was 684, Idowu Taylor Street, Victoria Island, Lagos by Yemi Adefarakan and Frank Obi.
. The address, also known as Freedom House, has been known as Mr. Tinubu's administrative office, housing several organisations and media offices owned by Mr Tinubu.
CAC filings showed Yemi Adefarakan once held majority shares of 4.6 million in Ocean Trust. Mr. Adefarakan now holds the position of executive director and group financial officer of Continental Broadcasting Service, owners of TVC News and other related media subsidiaries in Lagos and Abuja.
Wema Bank account opening package obtained by the Gazette showed Mr. Adefarakan was a signatory to Ocean Trust's financial activities.
Mr. Adefarakan also initially denied links to Ocean Trust. But when reminded that he ran the firm with Mr. Obi and others and the 2018 transfers from Alpha-Beta, he warned the Gazette not to proceed with our story.
Mr. Adefarakan said the bank documents were "classified," warning in Yoruba that "e ma ba nkan je oh," i.e.: publishing the documents could trigger chaos within their circles.
Messrs. Adefarakan and Obi used the same address in the account opening documents: 19A, Abagbon Close, Victoria Island.
A representative for Wema Bank did not immediately return a request seeking comments about whether the financial institution conducted a physical inspection of Ocean Trust's address when it updated the firm's know-your-customer diligence in 2016.
Messrs. Obi and Zwingina declined multiple requests seeking comments from the Gazette about their ties to Ocean Trust.
Mr. Durosinmi-Etti, a former CEO of Skye Bank, initially denied any ties to Ocean Trust, saying he had never heard of the firm. But when the Gazette showed him the CAC documents that confirmed he was involved, the security fund manager said his memory of the business had become fuzzy.
Although its CAC filings showed involvement of members of Lagos political and business elite, Ocean Trust had no known physical address. The Gazette tracked Ocean Trust to Freedom House and other addresses in Lagos but no one admitted familiarity with the name.
Yet, Alpha-Beta moved billions to the apparent shell company presumably from its opaque and questionable earnings from successive Lagos governments since Mr. Tinubu.
On January 12, 2018, Alpha-Beta transferred N800 million to Ocean Trust. Barely a few days later, the company also received N750 million on January 15 and another N450 million on January 16.
Ocean Trust again received N750 million from Alpha-Beta on May 14, 2018.
Our findings came as Mr. Tinubu and Alpha-Beta are striving to extricate themselves from money laundering charges raised against them by Dapo Apara, a former CEO of Alpha-Beta who said Mr. Tinubu controls Alpha-Beta as a conduit for siphoning Lagos funds to service his political and business structures.
In separate statements, Mr. Tinubu and Alpha-Beta denied allegations of corruption, but neither denied Mr. Apara's claim about Mr. Tinubu's control of Alpha-Beta.
Last month, Mr. Tinubu confirmed ownership of TVC and The Nation newspapers, yet neither him nor any member of his family reflected in the CAC documents of both companies. The former Lagos governor effectively admitted using proxies to hold commercial interests across multiple companies.
here are some pictures of Alpha-Beta's 2018 bank statement below