#ENDSars: Nigerians React As Sam Adeyemi Appears On Celebrity Lists Of Offenders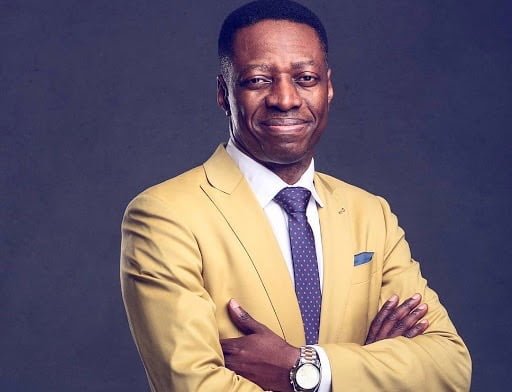 A list of celebrity offenders during the #EndSARS protests has emerged online, and Nigerians have mocked the Nigerian Authorities, at the sight of the name of Daystar Christian Centre Pastor, Sam Adeyemi on the list.
Recall in October, Nigerian youths took to the streets to protest against police brutality, with the hashtag #EndSARS.
Pastor Adeyemi had also been very vocal during the period, lending his support to the youths.
See reactions below:
https://mobile.twitter.com/SAMKLEF/status/1325107004348751885
https://mobile.twitter.com/thewebguyy/status/1326140996241985538
https://mobile.twitter.com/Wizarab10/status/1326036763677241346
https://mobile.twitter.com/Wizarab10/status/1326036763677241346
https://mobile.twitter.com/VirginbraZ5/status/1326159119770914816
https://mobile.twitter.com/AJ_Etim/status/1326165250148806656
https://mobile.twitter.com/Mrs_Laycon/status/1326164653353922565
https://mobile.twitter.com/SIRMarleyyyy/status/1326134894783770624
https://mobile.twitter.com/Hebraheim/status/1326147871515799552
https://mobile.twitter.com/aproko_doctor/status/1326136630411988993
https://mobile.twitter.com/OfficialAkoh/status/1326177613317017603
https://mobile.twitter.com/Queengizi/status/1326163326540374016
https://mobile.twitter.com/denikeoyetunde/status/1326158591775137793
https://mobile.twitter.com/OlodoActuary/status/1326168464256622595
https://mobile.twitter.com/abisinuolah/status/1326173528413106176
https://mobile.twitter.com/yettie_ade/status/1326138965162946560
https://mobile.twitter.com/Postsubman/status/1326170257237692418
https://mobile.twitter.com/semilore_adk/status/1326180336095662082
Source: Naija News