Nigerians React As ABSU Ask Students To Pay 'Pandemic Prevention Fee'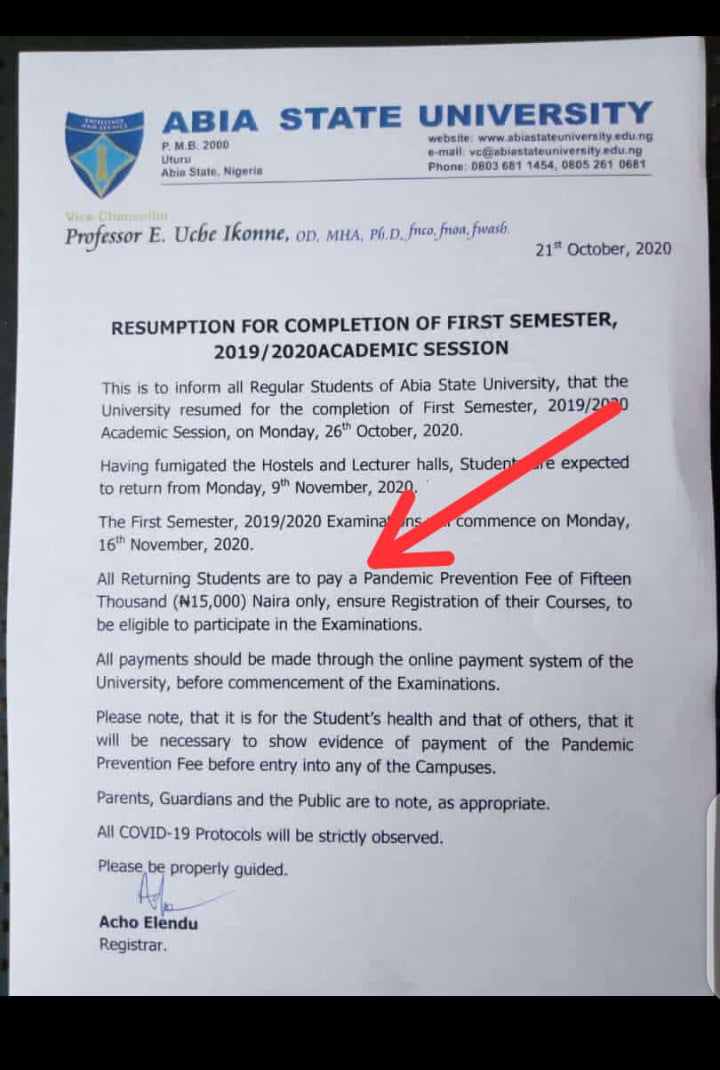 A storm of reactions by Nigerians has greeted a notice suggesting that Abia State University (ABSU) has asked its students to pay a 'pandemic prevention fee' ahead of the school's resumption scheduled for Monday, November 9, 2020.
Naija News had reported earlier that ABSU students were asked to pay a 'pandemic prevention fee' of N15,000 and also register all their courses in order to be eligible to participate in examinations in a notice signed by the school's Registrar Acho Elendu.
A Facebook user, Ebube Jessica shared a photo of the notice with the caption: "I don't know if I should laugh or cry?
"Since their SUG has met with ?kp? az? who must have given them brown envelopes, I don't know what the fate of these students will be now.
"Abia is cursed!!!"
Displeased with the development, Nigerians took to the micro-blogging site, Twitter to air their opinions on the matter.
Naija News captured some of the reactions below…
E jor which one be COVID-19 fee again?
Una want make we resume or not???#sorosoke #EndAbsuCovid19Fee #absu pic.twitter.com/D5q1GrN5Fi

— Baby_Girl? (@olu_omachi) November 5, 2020
Mass comm alone we clocking 700 if not more And u asking us to pay 15k each
They should be considerate we are all going to pay for lodges we didn't stay
And don't forget our projects, textbooks fee, and so many others. #ABSU #EndAbsuCovid19Fee @Mbahdeyforyou @AbsuPlatform pic.twitter.com/FKVeU9Y0tP

— sexy_ahmarah (@Ahmarah7) November 5, 2020
#ABSU ABSU ALONE TO EXTRACT 1BILLION NAIRA FORM STUDENTS THROUGH COVID-19 PANDEMIC PREVENTION FEE… WHAT A SHAME… GREEDY LECTURES GREEDY ACADEMIC STAFF EVERYWHERE, GREEDY NIGERIANS. pic.twitter.com/inY0qgj9gs

— milian jioke (@milian_jiok) November 5, 2020
Isn't this one of the reasons @ASUUNGR has refused the opening of schools? Now #ABSU is asking students to pay #15,000 Pandemic Prevention Fee. This is laughable. pic.twitter.com/yu8HmDFUhG

— Kanu Samuel (@iamkanusamuel) November 5, 2020
Nigerian government no get shame aswear ?? students are to pay 15k for Pandemic prevention in abia state university#ABSU pic.twitter.com/N7xRDqcDj6

— ?BELOVED™ (@beloved9ty) November 5, 2020
#ABSU said to extort each returning student the sum of ₦15,000 as "pandemic prevention fee"

What I want to understand here is would one be automatically immunized against COVID —19 if they paid the said pandemic prevention fee?? pic.twitter.com/ZLVVqklpGx

— ? ? ? ? ? ? ? ? ✨❁ (@Ameenu_IG) November 5, 2020
Abia State can never be better with the likes of Ikpeazu on sit.Not to forget quickly that this man is owing his workers 6months -3 years salary and pension. It's time to arise in Abia and take what is rightfully ours!!!?#ABSU #Crowdyvest #money pic.twitter.com/quPgohMmdr

— @Zinnypeace (@Zinnypeace1) November 5, 2020
Fraud Alert….. This nonsense must stop in Abia State. #SaveAbiaState #ABSU #COVID19 pic.twitter.com/cvJjCHrZpU

— Abia Vanguard (@AbiaVanguard) November 5, 2020
#ABSU we have been struggling to pay all the exorbitant bills
Please we can not pay for covid-19
Covid-19 didn't originate from #ABSU lab pic.twitter.com/ihSFnhJMDJ

— Gabriel (@G_A_B_S_O_N) November 5, 2020
The audacity the governor used to say he has paid 10k for all students out of the initial 25k they were supposed to pay, so now they should pay 15k.

He's such a nice man ?#ABSU

— Potential Doctor ? (@dabz_official) November 5, 2020
Download NAIJA NEWS app: