Malami: Hoodlums Wearing Army Uniform Might Be Behind Lekki Massacre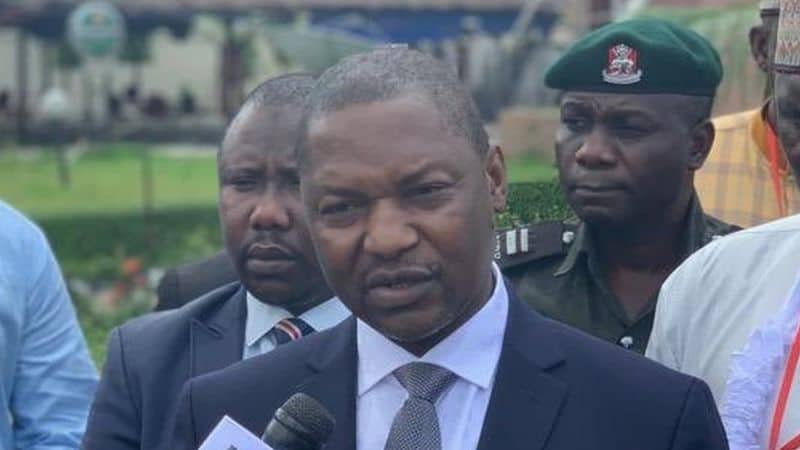 Nigerians Minister of Justice, Malami Abubakar, has revealed that hoodlums wearing military attire might have been responsible for the shooting at Lekki Tollgate on October 20.
Abubakar, while speaking with newsmen late on Monday, November 2, said investigations have ascertained what truly happened at the Lekki Tollgate.
Malami said it is "pre-emptive" to conclude that there had even been shootings, stating that hoodlums may have been hired to create a scene."You cannot rule out the possibility of perhaps hoodlums that set in to create a scene could equally partake in the process," the AGF said.
On October 20, a viral video surfaced online showing armed military men shooting at unarmed #ENDSARS protest at Lekki Tollgate.
In a statement released by the Acting Deputy PRO of the Nigerian Army, Osoba Olaniyi, on Tuesday, October 27, it debunked the allegations, and revealed the claims are from the hand work of mischief-makers who will stop at nothing to tarnish its image.
It however stated that the Lagos State Government called on its intervention after a 24-hour curfew was declared in the State following series of violence and bloodshed that accompanied the protests which led to several police stations being burnt, and policemen killed.
Also, the Lagos State Governor, Babajide Sanwo-Olu, on Wednesday, October 21, said two deaths were recorded shortly after he said in a state-wide broadcast that no life was lost in the attack.
The judicial panel of enquiry set up by the Lagos state Government to investigate police brutality has already commenced investigation
Meanwhile, Naija News , The Lekki Concession Company LCC on Tuesday, November 3 submitted CCTV footage of events that happened on October 20, 2020, when soldiers allegedly shot at #endsars protesters at the Lekki Toll Gate to the Judicial Panel of Inquiry set up by the Lagos State Government.
The Managing Director of LCC Abayomi Omamuwasan who tendered a hard drive containing the video to the Judicial Panel said the surveillance camera did not capture the shooting of the protesters as it stopped recording at 8 pm due to vandalism and a fire outbreak that occurred at the toll gate.
Download NAIJA NEWS app: