#EndSARS Protesters Killed In Enugu, Bodies Dumped In Onyeama Valleys – Mbaka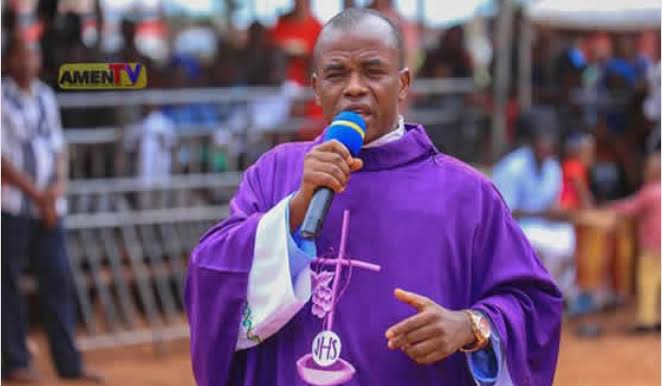 The spiritual director of the Adoration Ministry (AMEN), Rev. Fr Ejike Mbaka has alleged that security operatives killed some #EndSARS protesters during the recent protests in Enugu State.
He further alleged that the bodies of those killed by the security agents were dumped at the Onyeama valleys.
The priest made the allegation while speaking on a message, entitled "Impure Heart" during the 2020 All Saints Day Holy Mass at Adoration ground.
Mbaka noted that the protesters, Biafra agitators, and some others who have been showing their discontentment were left frustrated by the many years of bad governance and misrule in the hands of the nation's rulers.
He added that many youths were been held in detention across some prison facilities (correctional centers) across the country but in his view, it is the leaders of Nigeria that should be in custody, not "those Biafra boys. They should not touch any of those Biafra boys," he stressed.
Clarifying that his message was not to paint any government, leader or administration in bad light, Father Ejike submitted that it is time for Nigerians to end bad governance.
"This is not about #EndSARS or IPOB. Nobody is fighting any government, we are fighting bad governance," he declared.
On those killed and dumped during the #EndSARS protests, Father Ejike noted that "This country can never be the same again!" before he then added "Few days ago, at Miliken Hill, after New Market, (in Enugu), people discovered copses of those that were shot and killed during the recent protest. "They dumped people's corpses there while families of those young men and women continued searching for them. "That is why I am telling you that Nigeria can never be the same again. Whether you choose to misunderstand me or not is not my worry; that is your headache.
The fiery cleric noted that it was wrong for the government to have hoarded the COVID-19 palliatives which were later discovered and packed away by the citizens.
He added that those who lost their lives in the protests for a better Nigeria are on the path of sainthood and martyrdom.
"How do you want to reason with the youths when they have seen where their palliatives are parked? A billionaire will be hoarding noodles that are meant for poor people and you want these poor people to fold their hands and be watching you? They cannot kill everybody because there are saints in heaven and the saints will be interceding for the Nigerian youths. Even the Pope has prayed for Nigerians and so, this wickedness cannot continue.
"The protest that the youths embarked on recently is what is called life of martyrdom. Some people have to suffer to change the country. If you suffer to bring about change, wellness and godliness to a country, you are on the course of becoming a saint. "Saints are those who are ready to die for the good course", he said.