EFCC Fails To Secure Arrest Warrant For Diezanni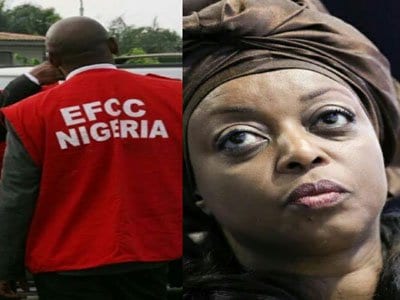 Nigeria's former petroleum minister, Diezani Alison-Madueke, has secured a temporary relief as the Economic and Financial Crimes Commission's request to issue a warrant of arrest against her was turned down by an Abuja high court.
Naija News Understands that the judge, Ijeoma Ojukwu, said that the commission must provide evidence that an order of summon earlier issued by the court was not sufficient to extradite the former minister.
"I have carefully pursued the application of the prosecution. The earlier order of the court was made pursuant to Section 831 of Administration of Criminal Justice Act (ACJA). Court orders are not made in vain," the judge said.
"It is my view that the summons should have assisted in the extradition of the defendant by the Office of the AGF. Today, the defendant is not in court and no reason was given. I am being informed that the defendant is believed to be in the United Kingdom."
The commission had in requesting for the criminal summons in July claimed that it was required to facilitate the ex-minister's extradition to Nigeria.
The trial judge  however, adjourned the matter to December 3, for report and arraignment of the defendant.
The former minister is facing various corruption allegations for her role in a number of cases while serving as petroleum minister including her role in the Strategic Alliance Agreement (SAA) with Septa Energy Limited, Atlantic Energy Drilling Concept Limited and Atlantic Energy Brass Development Limited by NNPC; the chartering of private jets by the Nigerian National Petroleum Corporation (NNPC) and Ministry of Petroleum Resources; and her role in the award of contracts by NNPC to Marine and Logistics Services Limited.
The former minister who flew to the UK after her party, PDP, lost the 2015 presidential election, is believed to still be in the UK where she is also being investigated for money laundering.She has repeatedly denied any wrongdoing.
Download NAIJA NEWS app: