Jonathan's Aides Are Doing Well, What Will Become Of Buhari's Aides After 2023 – Reactions As Okonjo-Iweala Emerges WTO DG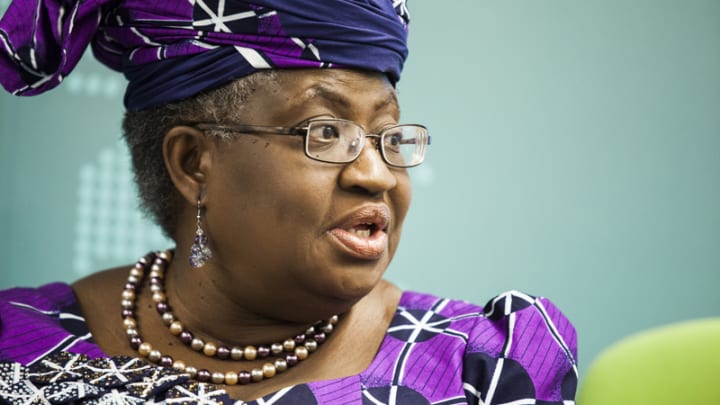 Former Nigeria minister of finance, Dr. Ngozi Okonjo-Iweala, on Wednesday, October 28 emerged as the new director-general of the World Trade Organisation (WTO), Naija News reports.
The Nigerian economist and international development expert who earlier encouraged that the incoming director-general of the World Trade Organisation should be elected base on credibility irrespective of gender or country finally became the WTO DG, Naija News understands.
Okonjo-Iweala defeated her fellow finalist, Ms Yoo Myung-hee from South Korea by a wide margin for the keenly contested position. She would, however, be formally announced by the WTO later today (3 pm Nigerian time).
Naija News gathered that Okonjo-Iweala polled 104 votes from 164 member countries to defeat Myung-hee of South Korea in the final stage of the race for the international job.
Reacting to the development, OAP Chuma Nnoli [@ChumaNnoli] said that the emergence of Ngozi Okonjo-Iweala as the new WTO DG, and Akinwumi Adesina as AfDB President is a proof that Nigeria has great minds but bad leadership is its greatest challenge.
Using Okonjo-Iweala's achievement to challenge President Muhammadu Buhari, a Twitter user China Ruth [@ruth_nasa] tweeted; "Buhari is 77 years old while Ngozi Okonjo-Iweala is 66years old. But she's better than Buhari in all ramifications."
She added, "Buhari, is this not your junior that is making us proud globally? Congratulations to the new WTO DG."
Another user of the bird app, Sodiq Tade [@SodiqTade] expressed his joy seeing aides under the Goodluck Jonathan's administration doing great across the boards. He, however, said he wonder what aides of the incumbent government will become when they are out of office.
He tweeted; "Those who worked with Jonathan are either President of AFDB or WTO DG. I wonder how those who are working with Buhari right now will serve the Country/Africa/World after Buhari administration. It shows GEJ worked with the best brains those years."