Nigerian Government Has Failed, #EndSARS Protest A Wake-Up Call, Bakare Reveal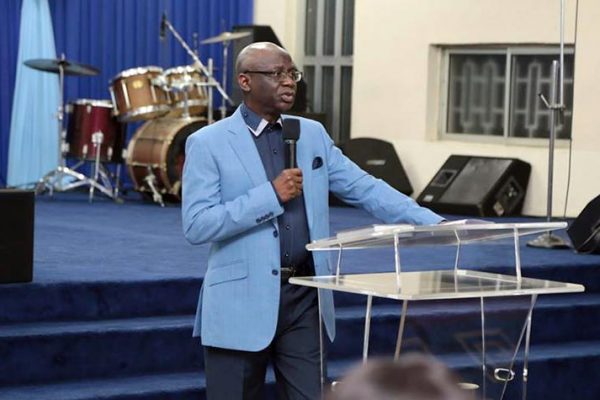 Tunde Bakare, serving overseer of Citadel Global Community Church, formerly known as Latter Rain Assembly has described the# endsars protest as a wake-up call to Nigerian government at all strata to end bad governance, poverty and joblessness in the country.
He also commended #EndSARS protesters for their "resilience" as he described the protest as a tip of the iceberg.
The cleric also described SARS as a state-aided robbery gang, added that the #EndSARS protest is not just a protest against police brutality but also a protest against the entirety of the failed governance structure.
He, however, called on President Muhammadu Buhari to ensure that those who ordered armed soldiers to fire on innocent citizens are fished out and made to face the full weight of the law.
Part of his speech
"In the past week, we witnessed with great sorrow the desecration of our nationhood as Nigeria's armed forces stained the banner of our nationhood, the Nigerian flag, with the blood of our children, the Nigerian youth, to whom our founding fathers charged us to hand over a banner without stain," he said.
"No degree of brutal repression of protesters can quench the flame of protests in the hearts and minds of the Nigerian people. Your bullets may drive them off the streets, but your bullets cannot pierce their spirits or puncture their resilience.
"One can understand why the younger generation would so heavily indict preceding generations. At independence, we inherited a promising nation, but we are bequeathing a predatory nation to the young generation. We inherited a nation whose structural foundations were built on principles of true federalism, a nation in which the diverse groups had the freedom to determine their destinies, but we are bequeathing a unitary nation, federal only in name, in which sub-national expressions are suppressed by an overbearing centre.
"We inherited a banner without stain, but we have introduced a new colour to our green-white-green: blood red."
Bakare state the country needs leaders who listen to the people, condemned the violence that trailed the protests.
Naija News recalls that Young persons across the country had hit the streets to demand a reform of the police as a result of excesses, particularly by the special anti-robbery squad (SARS).
Following the protests, Mohammed Adamu, inspector-general of police, disbanded SARS while the federal government promised to accede to the demands of the protesters, appealing to them to leave the streets.
But the protests continued until armed men in army uniform opened fire on the protesters.In a state-of-the-nation address on Sunday, Bakare said: "The Nigerian state has blood on its hands".
here is the video below as he speaks on the #ENDSARS Protest
The #EndSARS movement isn't just about corrupt policemen, but the entirety of our failed governance structure. #EndSARS means END the STATE-AIDED ROBBERY SQUAD! pic.twitter.com/qtLtaHbaVh

— Dr. Tunde Bakare (@T_Bakare) October 25, 2020