I Will Declare Second Biafra War If… Nnamdi Kanu Warns Nigerian Governors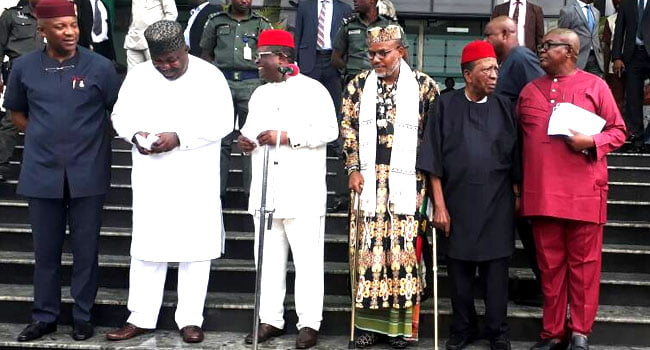 The leader of the outlawed Indigenous People of Biafra (IPOB), Nnamdi Kanu, has warned that Nigerians governors especially the southern governors to steer off peaceful protesters today or he will declare a second Biafra war.
Naija News reports that the IPOB leader who is also the Director of Radio Biafra made this comment in reaction to the attacks carried out on peaceful #EndSARS protesters at the Lekki toll gate by men in army uniform.
This online news platform that soldiers of the Nigerian Army invaded a peaceful protest at Lekki toll gate on Tuesday evening, October 20, killing #EndSARS protesters in the process.
President Buhari addressed Nigerians on Thursday evening following the Lekki massacre of unarmed peaceful protesters at the Lekki toll gate in Lagos, Nigeria's commercial city.
During the speech, President Buhari failed to address the shooting of #EndSARS protesters by soldiers of the Nigerian Army but rather ordered that the protests against police brutality that rocked various cities across the nation before the Lekki massacre on Tuesday.
President Buhari said: "I, therefore, call on our youths to discontinue the street protests and constructively engage government in finding solutions.
"Your voice has been heard loud and clear and we are responding."
Since then, several Nigerians have been attacked by security agents across the country, a trend which has forced Kanu to issue a strong warning that governors should steer off peaceful protesters today or he will declare 2nd Biafra war, stressing that "those who make peaceful revolution impossible make violent revolution inevitable."
Speaking on the protests, the IPOB leader said: "You cannot defeat an army of volunteers go and check your history book. If police or army kill any Biafran in today's clean up exercise and peaceful protest, I will declare 2nd Biafra war," Kanu said.
"The #EndSARS Protest will continue but must be peaceful but if the government sent their thugs against peaceful protesters then everywhere will go on flame," the IPOB leader warned.