Fashola Discovers Hidden Camera At Scene Of #LekkiShootings, Hands It Over To Sanwo-Olu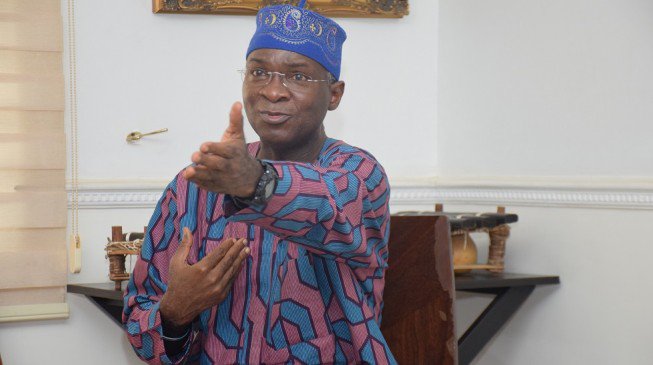 The Minister of Works and Housing, Babatunde Raji Fashola has discovered a hidden camera left on site at the scene of the Lekki toll gate shootings during the #EndSARS protests in Lagos State.
Fashola discovered the camera on Sunday during an on the spot assessment carried out by him and some other Ministers and Governors from the South-Western States.
As previously reported by Naija News, Fashola was part of Sunday's federal government delegation which visited Lagos State on the orders of the President, Muhammadu Buhari.
The team visited Governor Babajide Sanwo-Olu to commiserate with him and assess the level of damages and loss of lives following the looting and arson of public and private properties last week by suspected hoodlums after the Lekki toll gate shooting that happened on Tuesday.
Others on the federal government delegation included Senator Olorunnimbe Mamora, Minister for State of Health, Minister for Interior, Rauf Aregbesola, and Niyi Adebayo the Minister of Industry, Trade, and Investment.
Sunday Dare, Minister of Youth and Sports Development, and Olamilekan Adebite, Minister of Mines and Steel also joined the team.
Also, some southwest Governors from Ekiti, Ondo, and Oyo were on the inspection tour alongside journalists.
This online medium understands that during their visit to some of the incident scenes, Fashola, who also happens to be a former Lagos State Governor, discovered a camera carefully hidden in a spot at the Lekki toll gate.
The camera which is presumed to have been planted to capture what transpired at the scene was picked up with the aid of a handkerchief and handed over to Governor Sanwo-Olu for further forensic analysis and investigation.
Fashola stated "I think this will help with the ongoing investigations into the shootings at the Lekki Toll Gate. "It requires forensic analysis and could be used in the investigations to unravel the mystery surrounding the shootings at the Toll Gate, I believe."
There have been confusions about who ordered the military to the scene of the Lekki toll gate protests and the shooting which occurred later.
Both the military authorities and the Lagos State government have denied deploying soldiers to the scene while the federal government also claims it is awaiting a further briefing from the committee set up to investigate the incident.
However, DJ Switch who was there and made a live Instagram video on the night of the shooting claims the security operatives shot and killed some protesters. She also displayed some of the bullet shells allegedly picked up from the scene of the shooting in a video where she recounted her ordeals from the night.
Bodies of those reportedly shot are also yet to be found.
Source: Naija News