7 Soldiers Killed, 14 Injured As Troops Run Into Boko Haram Ambush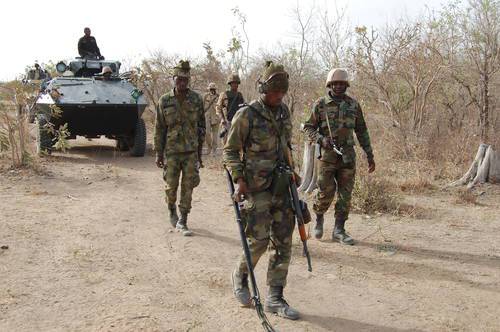 Not less than 7 soldiers of the Nigerian Army have been killed while 14 others remain critically injured after troops ran into a Boko Haram ambush in Borno State.
Military sources told The Cable that the troops were on a patrol of the Doska area in Borno State when they ran into the ambush resulting in casualties.
Naija News understands that the Doska area, located in Damboa local government area of Borno is one of the strongholds of the insurgents and has been majorly deserted since 2015 due to frequent attacks.
The sources narrated that the troops while on patrol, sighted some people in military uniforms and gun trucks, believing them to be from another formation.
It was only when they had moved closer that they discovered they had been tricked as the people they sighted were actually members of the Boko Haram Terrorist group.
"The troops were on a fighting patrol, and when they got to Doska, they saw these people in military uniforms and military machines, and they even waved so our troops thought they were soldiers from another formation," a source said.
"The troops stopped, exchanged greetings with these people. And as they proceeded, they ran into an ambush. Immediately, the insurgents closed in on them, opening fire.
"We lost seven soldiers, and 14 were critically injured," the source added.
The insurgents are understood to have planted improvised explosive devices (IEDs) all round the area, making navigation much more difficult for the military.
Sagir Musa, the spokesperson of the Nigerian army, was not immediately available for comment over the incident reported.
Meanwhile, the Lagos State Governor, Babajide Sanwo-Olu, and his team on Friday, visited the Ajeromi Ifelodun Local Government, Ajeromi Divisional Police Headquarters, Layeni, and Amukoko Police Stations to inspect damages done by hoodlums in the last 72 hours in the state.
Other places visited by the government officials include Lagos State Public Works Office at Ojodu and Ojodu Bus Rapid Transit terminal.
Download NAIJA NEWS app: