#PoliceBrutality: Gbakoje, DPO Of Olosan Police Station Allegedly Attacked By Mob – [Video]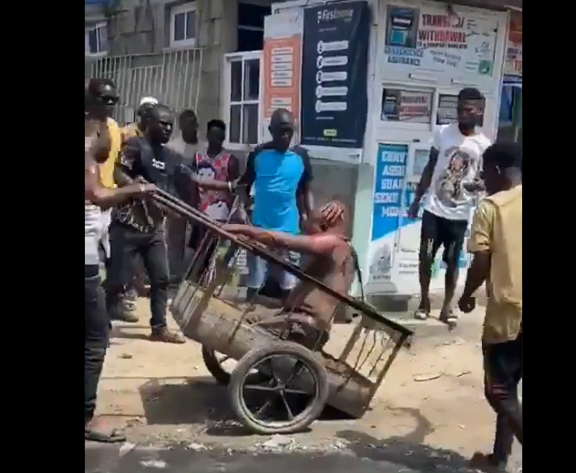 Some angry mob has attacked a man alleged to be the DPO of Olosan Police station in Mushin area of Lagos State.
In a now-viral video on social media, the mob were seen mercilessly beating the man who they put inside a wheelbarrow. Though the face of the victim is not clearly seen, it is, however, alleged that it was 'Gbakoje' the Oloson DPO that is being dealt with in such manner.
Naija News understands that the Gbakoje was accused of being responsible for the shooting of some peaceful #EndSARS protesters in the Mushin area a few days ago as captured in one of the viral videos posted online.
Sharing the video of the alleged attack on Gbakoje, a Twitter user [@savndaniel] shared "MOB ACTION IN LAGOS! Viewer s Discretion. The DPO of Olosan Police station, Mushin lagos Aka (Gbakoje) that started shooting innocent protesters at Mushin was caught by mobs and is being lynched – as seen here."
In a subsequent post, the poster shared that tweeps dismissed the report, claiming that the man in the video is not GBAKOJE. According to them, DPO Gbakoje was rescued by the military.
However, watch the video below.
Viewers discretion – Naija News advises
MOB ACTION IN LAGOS

Viewer s Discretion.

The DPO of Olosan Police station, Mushin lagos Aka (Gbakoje) that started shooting innocent protesters at Mushin was caught by mobs and is being lynched – as seen here. pic.twitter.com/UwARizd2uJ

— Savn Daniel (@savndaniel) October 22, 2020