#LekkiMassacre: Hoodlums Attack Palace Of Oba Of Lagos, Escape With Staff Of Office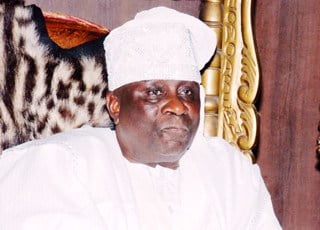 Hoodlums protesting the attack by security operatives on #EndSARS protesters on Wednesday, attacked the Palace of the Oba of Lagos, Rilwan Akiolu.
The hoodlums reportedly overpowered the security operatives they met at the palace before gaining entrance into the building.
After gaining entrance into the Palace located at Iga Idugaran, Lagos Island, the thugs vandalised vehicles and carted away several artefacts.
In a video which has gone viral on the Internet, the thugs are seen making away with Monarch's staff of office commonly referred to as 'Opa Ase'.
The staff of office is the symbol of authority of the monarch.
A resident narrated that the king himself was protected from harm by security operatives present in the place during the invasion.
As at the time of filing this report, Naija News gathered that a combined team of security operatives were still stationed at the palace to forestall any other attack.