#LekkiMassacre: Buhari Is Not The Problem Of Nigeria – Father Mbaka Says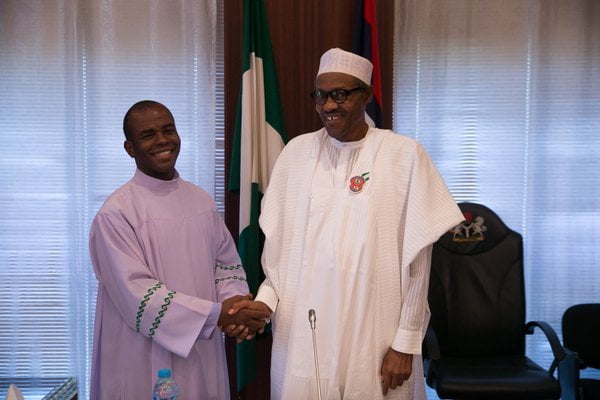 Controversial Catholic priest, Rev. Father Ejike Mbaka, spiritual director of the Adoration Ministry, Enugu has declared that President Muhammadu Buhari is not responsible for the problems facing Nigeria.
Mbaka made the submission in his reaction to the #EndSars protests rocking the country and particularly, Tuesday attack by security operatives at the Lekki toll gate plaza by security operatives.
The catholic priest who declared total support for the #EndSARS protests calling for an end to bad governance in the country however said President Buhari is not responsible for the country's problem.
He said while addressing his congregants in a viral video in which he reacted to calls for him to speak up on the protest that the problem facing Nigeria is a system failure.
He condemned the situation where lawmakers and other political appointees earn bogus amounts of money as salary and allowances while the masses live in abject poverty.
Mbaka noted that he is ashamed of the leaders in Nigeria and supports the call by the youths for a lasting change to be instituted.
In his words: "Many people are asking why is Father Mbaka silent in the midst of this #EndSARS [protests]? Do you know when I started crying that our youths should rise up?
"Is not yet time to speak, but if you people enjoy the situation you are in right now, then let it be.
"All I'm trying to say is that the condition of our youths in this country is unbearable. The conditions are intolerable.
"Not just in this Buhari administration but past administrations. A country where a sitting Senator will be sweeping millions upon millions every month. It has been like this, not Buhari.
"No plans for our children…is there any money allocated to any Christian governor that Buhari seized? The system is evil. The youths should rise up the more if not you will talk and talk, aged and die away. I'm ashamed of our leaders."