#EndSARS: Police Operatives Caught On Camera Destroying Properties (Video)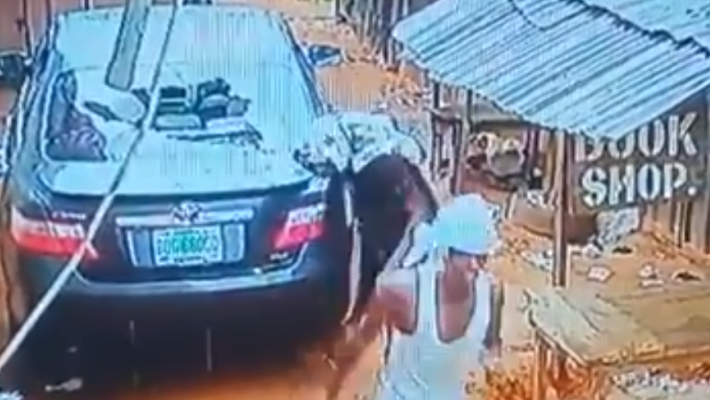 A police officer has been spotted in a video destroying a vehicle alongside hoodlums in Benin, few hours after Governor Godwin Obaseki declared curfew in Edo State.
The police operatives dressed up in mufti entered into a compound to smash a packed Toyota Camry.
They were, however, recorded on an hidden camera while carrying out the illegal act.
Some people who commented under the video on Twitter noted that they know the police at a police station in Benin.
Thugs have hijacked the protest against police brutality.
Earlier today, they set two police stations on fire in Lagos.
Watch videos below:
When this appears on your TL, retweet!!! Let it be known that the policemen are responsible for the chaos and destruction of properties in Benin! This is unfair! #EndPoliceBrutalityinNigeraNOW #endsars #BeninProtests @SavvyRinu @RealDreylo @UnclePamilerin @jack @falzthebahdguy pic.twitter.com/l6GRbtEwwB

— Phurtune? (The luxury woman) (@lingerie_nig) October 20, 2020
When this appears on your TL, retweet!!! Let it be known that the policemen are responsible for the chaos and destruction of properties in Benin! This is unfair! #EndPoliceBrutalityinNigeraNOW #endsars #BeninProtests @SavvyRinu @RealDreylo @UnclePamilerin @jack @falzthebahdguy pic.twitter.com/l6GRbtEwwB

— Phurtune? (The luxury woman) (@lingerie_nig) October 20, 2020
See them shamelessly trying to destroy cameras!!! Shameless!!! Again, Benin #endsars protesters didn't destroy properties! Policemen with guns did!

Retweet aggressively!! #Beninprotest #SarsMustGoNow #AbujaProtest

— Phurtune? (The luxury woman) (@lingerie_nig) October 20, 2020